Rehab in the Hamptons: Where Wall Streeters Sober Up
By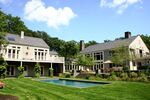 When a Wall Street exec decides it's time to kick his costly coke habit or address his depression, there's no need to fly to starlet-studded celebrity rehab facilities in Malibu or Palm Beach for high-end treatment. Sobriety, amid such bourgeois comforts as a heated pool or a yoga instructor, can be found a short drive east at The Dunes East Hampton, a luxury rehab facility that opened in December 2010. Recovery is hard, no matter how rich you are. So take away the oxycodone, but at least leave the quail eggs and yoga classes.
For the 1 percent, this $5 million facility is the first upscale rehab center in Long Island. Treatment costs $45,000 per month, and insurance and government support are not accepted. "Scholarships" are provided to a limited number of people who couldn't otherwise afford to check in.
The weak economy is putting white-collar workers through a lot of stress, and drugs prescribed to relieve anxiety can quickly become a problem, says founder Joe McKinsey, a recovering alcoholic who has been sober for more than 28 years. His clients are primarily "middle management and up," he says, and while most are New Yorkers, others come from New Jersey, Connecticut, and as far away as Los Angeles.
Some common addictions treated at The Dunes: alcohol, marijuana, oxycodone, Xanax, Ritalin, Ambien, Adderall, Valium, Vicodin, Percocet, Percodan, codeine, Demerol, Dilaudid, cocaine, and methamphetamine.
The Dunes operates a 90-day program during which clients reside on the four-and-a-half-acre property. No drugs are allowed on the premises, but clients are not deprived of dietician-approved gourmet food. To keep the well-heeled well fed, the kitchen serves "local fresh seafood" such as lobster, tuna, cod, striped bass, and scallops, in addition to steak, chicken, and game. Eggs are delivered from a nearby game bird and chicken farm, and many of the vegetables are organic and locally harvested. Champagne, of course, is not on the menu.
Not counting the lush grounds, massage, yoga, and meditation led by a Tibetan instructor, The Dunes's program is not too unfamiliar—it's just plusher than a church basement. It includes 12-step meetings and educational sessions about addiction and relapse prevention, as well as one- to five-mile walks, movies, and equine-assisted therapy on Shelter Island.
There's growing demand for treatment centers in the area. According to a new report by the New York State Attorney General, substance abuse rates, especially of prescription drugs, are soaring in Long Island. Since opening, The Dunes has had about 80 "clients" as McKinsey calls them (he finds the term "patient" too clinical). He says the 10-bed facility is at about 80 percent capacity.
Still, luxury does not guarantee success. "I'm not sure if folks struggling to stay sober need a personal chef," says Jeffrey Reynolds, executive director of the Long Island Council on Alcoholism and Drug Dependence. "It's great for people who require that environment, but they shouldn't think that rehab is a vacation. It's not." He adds: "Treatment is hard work."
So why recover in luxury? "Why not?" says McKinsey. "It's like anyone who is going to a hospital: If they can afford a private room, they'll get a private room. If they can stay at a nice hotel, they'll get the best one they can afford. It's the same when it comes to treatment."
In the end, addiction is the ultimate equalizer. It's true that money can't buy sobriety—but it can get you there in a Jacuzzi.
Before it's here, it's on the Bloomberg Terminal.
LEARN MORE