NBA All-Stars Take On the Oscars and Lose by 2 Million
By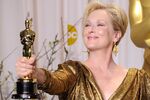 Sunday night was the first time the NBA All-Star Game has coincided with the Academy Awards telecast, and if the TV ratings are any indication, Hollywood beats the hardwood.
The NBA's mid-season exhibition, which usually takes place a week or two before the Oscars, aired last night on TNT at 7:30 pm East Coast time, while the 84th Annual Academy Awards got underway at 8:30 pm on ABC. According to Turner Broadcasting, the game drew an estimated 7 million U.S. viewers, down from last year's 9 million. The Oscars, meanwhile, jumped by 1.4 million to 39.3 million total viewers, up from 37.9 million a year earlier.
The All-Star game's decline bucks a recent growth trend for the NBA. According to data compiled by researcher Nielsen, the All-Star game's viewership had risen from 6.3 million in 2008 to 6.8 million in 2010, before surging to 9 million in 2011. Last weekend's showing roughly put it back only a bit ahead of where it was two years ago.
The Oscar ceremony audience, meanwhile, surged from 32 million in 2008 to 41.7 million in 2010, before shedding 3.8 million viewers last year to hit the 37.9 million level for 2011′s telecast. This year's Oscar gain gave the awards presentation its second-biggest audience in the past five years.
It would be foolish to imagine that a million plus would-be viewers simply gave up the All-Star Game in favor of the Oscars. The game was long over by the time The Artist collected the Best Picture Award. But it's hard to escape the conclusion that the NBA would be wise to avoid butting heads with Oscar in the future.
"The fact that [the All-Star Game] is down 2 million from a year ago—and still had all the big stars like Kobe and LeBron playing—you have to say the Oscars may have played some part in the fall-off," says Brad Adgate, director of research for Horizon Media. Still, he points out, there is not much overlap between the two audiences. This year's All-Star Game audience was 70.5 percent male with a median age of 32.5, while Oscars viewers were 62.3 percent female with a record high median age of 52.8. Perhaps, Adgate suggests, the All-Star Game's losses are a commentary on the current status of the gender war over the remote control: "There might have been a point where you're watching the game with your significant other and she goes, 'I'm watching the Oscars,' and you're screwed."