A Ponzi Scheme That Never Gets Dull
By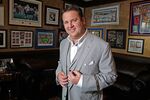 The saga of convicted billion-dollar Ponzi schemer Scott Rothstein keeps going and going. Last week Toronto-Dominion Bank reached a settlement with a large group of defrauded investors. In a hearing on Tuesday, a Florida state court judge in Fort Lauderdale is set to decide whether jury selection will start later this week in the investors' case against a local commercial bank.
The suits aim to recoup losses from Rothstein's scam, which blew up in 2009. Rothstein had duped people into giving him money that he said would be repaid with lavish returns from payouts on sexual-harassment and workplace-discrimination lawsuits. He had completely made up the lawsuits and the payouts. In depositions two months ago, Rothstein named names of people he said aided his $1.2 billion scam, detailing how he used bribes and a "rock star" lifestyle to seduce accomplices.
On Friday, TD Bank reached a settlement with a group of more than 50 investors, who say they lost a combined $180 million. The terms are confidential, though Barron's reported over the weekend that the bank will pay $170 million to settle the case. In January, a jury ordered the bank to pay out $67 million to a smaller group of investors. Two weeks later, the bank set aside about $255 million to cover potential litigation expenses for the Rothstein case. TD Bank spokeswoman Rebecca Acevedo declined to comment.
The new settlement comes just before jury selection is scheduled to start on March. 1. If the TD Bank agreement is approved by the court, the South Florida commercial bank Gibraltar Private Bank & Trust would be the only defendant left in the case. In depositions taken in December, Rothstein said he had two Gibraltar bank executives "in my pocket." Today a state court judge is weighing whether the trial should be delayed while Gibraltar finalizes a separate settlement with the court-appointed bankruptcy trustee, who is also looking to recoup losses. Gibraltar's lawyer, Eugene E. Stearns, did not return a call requesting comment, though he earlier had called Rothstein a "pathological liar."
Even if the case is put on hold, Rothstein is set to give a further 10 days of depositions in June. The now-disbarred lawyer, who pleaded guilty in January 2010 and was sentenced to 50 years, is in protective custody while he cooperates with government investigators. In his December depositions, Rothstein shared juicy details, saying he gave one bank officer a large envelope containing $50,000 to $75,000 in cash. Over a video conference before scores of lawyers, Rothstein will once again have a chance to share the juicy details that made his testimony what one South Florida lawyer described to us at the time as "the greatest show on earth."
Before it's here, it's on the Bloomberg Terminal.
LEARN MORE