Where Have Oprah Winfrey and Keith Olbermann Gone?
By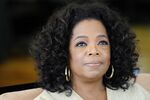 "Every 1 who can please turn to OWN especially if u have a Neilsen box." - Oprah Winfrey's tweet during the Grammy award ceremony February 12.
Oprah Winfrey and Keith Olbermann were among the biggest names in television when each decided to strike out on their own. It seemed to make sense: they would have more freedom, more control. They'd make more money. They'd become even more influential. It hasn't worked out that way, though.
The official term for this:  viewer inertia. Despite all the love for their talk show hosts, most viewers can't be counted on to remain loyal. "Even though these people are big brands, there are hundreds of channels. And when someone moves, not everyone is going to follow," says Derek Baine, a senior analyst at researcher SNL Kagan.
The slide has been particularly steep for Winfrey. During the three-day finale of Winfrey's talk show, Beyonce and Aretha Franklin sang for her, Tom Hanks and Jerry Seinfeld toasted her, Madonna, Will Smith, Queen Latifah and Maria Shriver hugged her. Some 20,000 people jammed into Chicago's United Center for the spectacle; the shows' ratings were among its highest in years.
But can you name any of the recent guests on Winfrey's latest episode of Oprah's Next Chapter? It airs Sunday evenings on her network, OWN, on a channel you have to figure out for yourself. Some people have: the average audience size for the show is 736,000, according to Nielsen. Problem is, overall ratings for OWN are lower than those of the channel it replaced, Discovery Health. That's certainly not good news for Discovery Communications, which partnered with Oprah's Harpo holding company to help finance the new channel. Winfrey's tweet, which she apologized for, suggests she's a bit frustrated, too.
Money-and more Oprah on the Oprah network-might solve some of these problems. Discovery promoted the network heavily when it first launched in January of 2011. But Winfrey wasn't on much then. She was still hosting her talk show, which aired for much of the year.
Olbermann, meanwhile, was MSNBC's top-rated host with an audience of about a million people and a bully pulpit that he made full use of. He was also difficult to work with and left MSNBC abruptly, taking his show, Countdown, to the struggling Current TV cable network. There the average audience for the show is 116,000, according to Nielsen.
This raises an intriguing question: is the medium the most important part of the message? Could Oprah have become Oprah on cable TV? Can Olbermann remain a leading liberal voice on a channel whose lights occasionally go out while he's on air? It seems not.
No word yet on how many viewers heeded Winfrey's request to tune in on Sunday night.
Before it's here, it's on the Bloomberg Terminal.
LEARN MORE