Wharton and NFL Launch Program for Teen Athletes
Alison Damast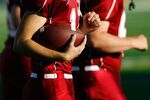 In the last few years, a growing number of business schools have designed executive education programs with the goal of helping former professional athletes transition to the business world. Undoubtedly, these programs helping them gain valuable personal branding and business skills, but are they coming too late in these elite athletes' careers? That lingering question may have been one of the reasons the National Football League's (NFL) Player Engagement Program turned to the University of Pennsylvania's Wharton Sports Business Initiative to help them design a leadership and business program for emerging top high-school age student athletes. The three-day program, which will be launching this summer, will be open to 36 "elite" high school athletes entering their senior year, ones with the potential to become professional sports players, said Kenneth Shropshire, who directs the Wharton program. Wharton professors, in conjunction with NFL executives, will give them a crash course in business, teaching them the basics of management, introducing them to financial terms and the role of financial advisors, and helping them develop leadership skills. Even though the NFL developed the program, students need not be football players to apply; it is open to student athletes, both male and female, from all fields, Shropshire said.
"Some of the wrong decisions you hear about with a lot of athletes are a result of just one bad move," Shropshire said. "This program will give them something to reflect on, help them realize they are leaders and hopefully have a positive impact on them making smart decisions in their careers. It's an early intervention."
The concept of this program seems to be spot on, especially in light of a 2009 report from the University of Michigan that suggests retired NFL players may not always be managing their finances in the most effective manner. Nearly 50 percent of retired NFL players between the ages of 30 to 49 said they had been given bad financial advice, and almost the same number said they had, at one time or another in their careers, experienced significant losses in business or financial investments.
Given those sobering statistics, introducing them to some basic business concepts early on in their careers sounds like a pretty smart move on the NFL's part. By the time these student athletes hit their stride in college and, later in their professional careers, they'll be bombarded with a bevy of complex business decisions, from negotiating complicated multi-million dollar contracts to deciding what endorsements to sign on for. Three days at a business boot camp program like Wharton's will likely not give them all of the tools to tackle these problems, but it will at least allow them to hit the ground running.
Before it's here, it's on the Bloomberg Terminal.
LEARN MORE