Usher Gives Talk at Emory
Francesca Di Meglio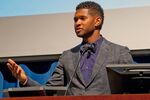 It's not the kind of place one expects to see the R&B singer Usher, yet there he was, holding forth on leadership yesterday at Emory University's Goizueta Business School in Atlanta. The keynote speaker at the 12th annual Undergraduate Business School Leadership Conference, Usher offered himself up as an example of what can be accomplished with hard work and know-how.
"I think about all the incredible beginnings there have been in Atlanta," Usher said, referring to those from the city who have been successful in entertainment and other industries. "I'm standing in front of a room of future leaders."
The Usher event was closed to the public, but Emory supplied excerpts of his comments. Since 1999, as part of his New Look Foundation, Usher has been a proponent of training young people to be leaders who will make a difference through service. The organization, which provides leadership certification to young people, teamed with Emory's Executive MBA program to create a curriculum for the certification program based on four pillars—talent, education, career, and service.
"I believe Usher's vision, which includes starting early, embracing talent in its many forms, and providing education, training, mentorship, and the opportunity to give back, will resonate deeply with our conference participants," said Andrea Hershatter, Goizueta's senior associate dean for undergraduate education and director of the BBA program. "We could not be more excited to have him as the keynote."
Rather than wax philosophical, Usher offered practical advice. "It's one thing to have a dream and an idea, but you need the tools to get it done and make your dream a reality," he said. Ultimately, Usher charged audience members with a mission to discover their calling. And he drew on his own experiences to illustrate the importance of this. "I love working," Usher said. "But it's really the heart of the work that makes a difference for me."
Before it's here, it's on the Bloomberg Terminal.
LEARN MORE