The Wage Gap: Why Men Earn More
Louis Lavelle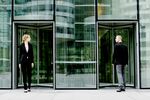 Which college majors have the biggest wage gap between men and women? According to a New York Times analysis of data from PayScale,  the leading fields are: architecture, education, and criminal justice-with men earning 5 percent more than women. Business is a close second: Business and marketing/management have a 4 percent wage gap, while finance and accounting have a 3 percent gap.

The Times took a stab at explaining the gaps by trying to determine if the gender composition of the majors had an impact on the pay gap—it doesn't.

But something else might. Each major can lead to any number of careers, and the pay levels for careers can vary wildly. So if men and women studying business pursue different career paths, it will affect their pay and ultimately the wage gap for that major.