The Romney Car Collection
By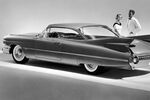 First there was the $10,000 bet. Then the remark about enjoying being able to fire people. Now Mitt Romney is talking up his wife's luxury-car collection.
The GOP Presidential candidate gave a speech about his tax plan to the Detroit Economic Club today, as Bloomberg's John McCormick and Tim Higgins report, closing it out with a comment that'll likely have the pundits chattering once again about Romney's inability to connect with middle-class Americans: He told the crowd he used to have a Dodge truck, but these days he's driving a Mustang and a Chevy pick-up, while his wife, Ann, gets around in "a couple of Cadillacs." No mention of what European-made wheels the Romneys may own.
Before it's here, it's on the Bloomberg Terminal.
LEARN MORE