His Airness, Michael Jordan, Is Still Flying High
By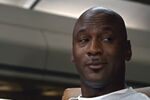 When Michael Jordan announced this week that he was suing Chinese clothing maker Qiaodan Sports for allegedly using his name, likeness, and retired jersey number without authorization, it was another reminder of Jordan's enduring power as a salesman. People don't bother to steal brands that don't sell. And the former Chicago Bulls No. 23 remains a marketer's dream.
The popularity of Jordan, who turned 49 this month and hasn't played in an NBA game in nine years, endures despite a post-playing career that has been, well, checkered. As majority owner of the Charlotte Bobcats and the first former player ever to own a franchise, he irked some during the NBA lockout this fall by reportedly taking a hardline against the players. (During the 1998 labor dispute, Jordan, then a player, famously dressed down now now-deceased Washington Wizards owner Abe Pollin, telling him, "If you can't make a profit, you should sell your team.") And his tenure in the front office with the Wizards from 2000 to 2003 was noted mostly for the colossal bust that is Kwame Brown, the player Jordan selected with the first pick of the 2001 draft. His Bobcats are currently 4-28. Jordan used the occasion of his induction into the Basketball Hall of Fame in 2009 to settle petty, ancient scores against everyone from Jeff Van Gundy to the high school coach who famously left him off the varsity team.
And then there are the fashion choices. In 2010, Jordan sported what was dubbed a Hitler mustache in a Hanes TV ad and drew mockery from the likes of Charles Barkley ("I don't know what the hell he was thinking"), Jimmy Kimmel, ("He probably said, 'Let's see if I can wear a Hitler mustache and see if any one stops me'"), and Stephen Colbert ("Oh nein he didn't"). Last year, his preference for oversize shirts and pre-shredded denim even became the inspiration for a blog called What the F*** Is Michael Jordan Wearing, which has drawn as many as 40,000 visits a day, according to its creator, Aaron Horton, a 28-year-old Web producer from Philadelphia. "He takes risks," Horton says diplomatically.
Still, no current player at this weekend's NBA All-Star Game comes close to matching his sway as a pitchman. Not LeBron. And not Jeremy Lin. "There will never be another Jordan," says Matt Powell, an analyst for marketing firm SportsOneSource Group. Nike-owned Brand Jordan has close to a 70 percent share of the basketball shoe market, with annual shoe and clothing sales of more than $1 billion, he says.
"LeBron would be the next biggest-named athlete out there, and I estimate in footwear and apparel sales he probably did about $100 million last year," says Powell. And it's not just sneakers. Jordan has deals with Hanes, Gatorade, Upper Deck, 2K Sports, and Five Star Fragrances, plus five restaurants and a car dealership in North Carolina. There are no signs any of it is going away. Last fall, Forbes estimated that Jordan's annual income from endorsements was $60 million, more than he ever earned as a player.
"Post-playing Jordan has not enjoyed the same success" in the business of basketball, says Doug Shabelman, president of Burns Entertainment, the marketing firm that negotiated Jordan's original Hanes deal. "Yet when it comes to the dollars and him being a pitchman, he continues to ride the wave of his playing days. It really hasn't hurt him." Short of a Tiger Woods-level scandal, says Bob Dorfman, creative director of Baker Street Advertising, one thing will take the shine off of Jordan: "Time. As the buying demographic becomes kids who never really saw him play, he kind of fades into irrelevance." Until then, Air Jordan gets a free pass on the Hitler 'stache and those acid-wash jeans.
Before it's here, it's on the Bloomberg Terminal.
LEARN MORE