Do Tax Breaks Help Manufacturers?
by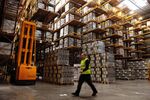 President Barack Obama singled out manufacturers for special treatment in his recently unveiled proposal for an overhaul of the tax code. While the overall corporate tax rate would decline under Obama's plan, from 35 percent to 28 percent, manufacturers would pay even less—around 25 percent of their income. The idea is to encourage manufacturers either to stay put or bring factory work home from foreign locales such as China.
The problem is, tax benefits for manufacturers may not have the intended effect. Howard Wial, an economist and fellow at the Brookings Institution, which released an ambitious report Feb. 22 about manufacturing in the U.S., says tax breaks generally don't figure that much in companies' decisions on where to produce things.
"For established manufacturers like food processors, paper companies, and auto companies, other things matter much more," he says. These companies are much more concerned about the cost of energy, raw materials, shipping, and machinery than they are about taxes. "Taxes are not that big a share of costs," Wial says. "And with all the deductions they can take, manufacturers generally pay nowhere near the statutory 35 percent." A gigantic tax cut for manufacturers, down to 12 percent or so, may yield a payoff. But that doesn't seem to be in the cards.
What could really help, says Wial, is to make the R&D tax credit permanent. As of now, Congress must renew it annually, which makes long-term planning hard. In Wial's latest paper, he establishes a clear link between research and development and manufacturing: In general, if a company conducts its R&D in one locale, chances are it will start manufacturing the products of that research in the same place. That's what is so scary about the trend among multinationals to establish R&D facilities in China: The Chinese are developing the R&D/manufacturing complex the U.S. once relied on for its success.
Before it's here, it's on the Bloomberg Terminal.
LEARN MORE