Who Cares About the Oscars This Year?
by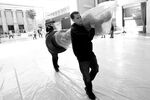 Complaining about the relevance of the Oscars is a ritual almost as old as the the ceremony itself. But this year, at least, critics may have a point: The 84th Academy Awards is not expected to break any records. Far from it. The Artist—a French silent movie starring little-known actors—is heavily favored to win Best Picture at the Oscars this Sunday. Advertisers are paying an average $1.7 million per 30-second slot to promote their brands during one of the biggest television events—the so-called Super Bowl for women. But it's not clear if the buzz surrounding this arthouse film and its fellow nominees will translate into viewers for the awards show.
This year's nine Best-Picture contenders pulled in an average $66.3 million each in domestic gross box office sales, compared with an average $135.7 million last year, according to box office reporting site boxofficemojo.com.
Of the 42 films with Oscar nominations this year, The Artist, released in 1,005 theaters, ranks 22nd in domestic box office receipts with about $28.3 million, reported boxofficemojo.com. Harry Potter and the Deathly Hallows Part 2 (three nominations), released in 4,375 theaters, was No. 1, with $381 million, followed by Transformers: Dark of the Moon (also three nominations) with $352.4 million.
Brad Adgate, senior vice president of research at Horizon Media, says there is a correlation between what people want to see in theaters and their interest in the Oscars. "I don't anticipate this being a top-rated Oscars," he says. "I think this year will be the first time since 1984 that the Oscars get fewer viewers than the Grammys."
Although the Academy Awards remains one of the most efficient ways for advertisers such as Hyundai, J.C. Penney, and Coca-Cola to reach millions of consumers (especially high-income women), Nielsen data show that viewership has stayed below the peak reached 1998, the year James Cameron's hugely hyped Titanic won Best Picture. The least watched show was in 2008, when the Coen Brothers' bleak, nihilist masterpiece, No Country For Old Men, beat Paul Thomas Anderson's bleak, nihilist masterpiece, There Will Be Blood, for the top award.
Ad time during the Academy Awards has never been cheap, though it is still about half that of Super Bowl ads (which reached a record $3.5 million per 30-second spot this year). In 1997, the average rate for 30 seconds was $850,000, or about $28,333 per second, according to data from Kantar Media, and has climbed steadily except for dips in 2002 and 2009. In inflation-adjusted terms, this year's $1.7 million per 30-second rate is about a 41.7 percent increase over 1997.
But the rate to advertise during the awards hasn't risen as quickly as advertising overall. Since 1997, the cost of reaching 1,000 viewers (CPM) during the Oscars has increased 175 percent, compared with an average 195 percent increase for prime-time network programming, according to Jon Swallen, senior vice president of research at Kantar Media.
"I think it's tempting but wrong to look at Super Bowl ads or Academy Awards ads as a solo, one-time event, but advertisers don't look at it that way. They are also buying slots for other programs," says Swallen. "It's still a vital part of that campaign" but is only one part.
AMC is the only station attempting any serious counter programming on Sunday night, with a new episode of The Walking Dead. It's a bet that might pay off—this may be the year viewers would rather watch zombies tear into human flesh than see George Clooney graciously accept another award.
(Click here for a slideshow of eight Oscar-worthy villains from years past.)
Before it's here, it's on the Bloomberg Terminal.
LEARN MORE