The Saudis Need Those High Oil Prices
They are spending billions to create jobs and preserve the regime
by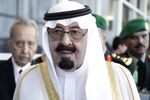 The world last year watched to see if Saudi Arabia would suffer the same instability that swept away other regimes in the Middle East. The question now is whether the world's largest oil supplier needs to raise prices to sustain ramped-up spending intended to calm its citizens. Higher prices would be bad news for Western governments, which need affordable oil to nurture their economic recoveries.
The Saudis rarely spell out exactly what they are thinking on the topic, but there are signs their strategy has changed, and they are increasingly willing to raise prices. Still, they seem not inclined to let prices go sky-high. A year ago Saudi oil minister Ali Al-Naimi said oil at $70 to $80 a barrel was fair. Then on Nov. 21, Al-Naimi said he was "very happy" with current crude prices; on that day oil traded close to $98 a barrel. Prices are now around $106 a barrel.
The evolving price targets have everything to do with the Saudis' "budget needs" in response to the Arab Spring, says Robin Mills, an analyst at Manaar Energy Consulting in Dubai. In February 2011, King Abdullah returned home from medical treatment in the U.S. to announce a spending plan that would quiet the restive parts of the Saudi population. By the end of 2011's first quarter the kingdom had allocated $130 billion in additional spending to build homes and combat youth unemployment. Government spending increased 28 percent last year to 804 billion riyals ($214 billion), while government revenue surged 51 percent, to 1.1 trillion riyals, according to Ministry of Finance Data.
The spending has achieved its political purpose: The House of Saud's eight-decade rule survived unscathed as Hosni Mubarak and Muammar Qaddafi were toppled, despite sporadic protests in the Shiite areas of Saudi Arabia's Eastern Province. The Saudi economy expanded 6.8 percent in 2011, central bank data show. Government employees were even awarded two months in bonus pay last year—an act of generosity that cost the government an extra 224 billion riyals over budgeted expenses.
Oil sales make up 80 percent of Saudi government revenue, says Faisal Hasan, head of research at Kuwait-based Global Investment House. Two years ago the kingdom needed an oil price per barrel of around $70 in order to pay for its budget without tipping into deficit. For 2011, the Saudis' break-even oil price was estimated by the International Monetary Fund to have risen to $80 a barrel, a figure that will increase to $98 a barrel by 2016. Saudi Arabia will have to keep spending heavily if it is to create 3 million jobs over the next three years, King Abdullah's stated goal. The Saudis are spending on defense too: the U.S. has agreed to sell the country 84 F-15 fighter jets for $29.4 billion.
Raising oil prices too high could backfire. The last global economic crisis caused prices to fall from nearly $150 a barrel in July 2008 to less than $40 by the end of that year. The possibility of that happening again has the Saudis trying to keep prices high but not so high they impair global growth. Says Mills, "They don't want prices to go above $100, and they are above $100 at the moment. Saudi Arabia pretty much is at a record production level and so is Kuwait. And the United Arab Emirates have been increasing too. So the Gulf allies are trying to maintain relative moderate prices." The Iranians and Venezuelans, members of OPEC but traditional adversaries of the Saudis, have no interest in a lower price. The Saudis have a precarious balancing act to pull off.
Before it's here, it's on the Bloomberg Terminal.
LEARN MORE