Taking Music in Ads Beyond Jingles
Mophonics mentors new acts—then profits on ad rights to their songs
by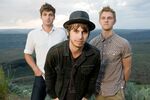 Before Pumped Up Kicks became a top-selling single last year, Mark Foster's greatest hit was the music in a TV commercial for Muscle Milk, a protein drink. But this year the singer-songwriter and his band, Foster the People, were nominated for two Grammys and performed live during the Feb. 12 awards telecast. For another artist, that would mean a speedy exit from the jingle-writing day job. Not Foster. He wrote most of the album's songs while working at Mophonics, a Los Angeles company that scores TV commercials and, in a unique partnership, encouraged him to develop his outside recording career. Now that Foster has made it, Mophonics is benefiting, too, selling compositions he wrote earlier to advertisers including Cadillac. Foster says he'll return to Mophonics to write the next album once his current tour finishes. "Foster the People wouldn't exist without Mophonics," says Foster. "Mophonics is kind of a creative home for me."
Foster's journey illustrates an evolution in the way songs are used in TV ads. Before 2000, most songs placed in ads were Top 40 hits. Then electronica musician Moby, born Richard Melville Hall, changed that by successfully licensing his dance album, Play, for TV commercials at the time of its initial release. That strategy not only sparked CD sales for Moby (Play has sold 2.7 million copies in the U.S.), it got more advertisers interested in lesser-known acts whose contemporary sound could resonate with consumers.
Mophonics, whose clients include Apple and Clorox, takes the strategy further by putting promising composers on staff and asking them to write two- or three-minute songs, rather than the 30-second jingles that would typically wind up in a commercial. They share the royalties on any music used in an ad. The use of a snippet in a commercial can help an artist sell full-length material. Sales of albums by the group Vampire Weekend, for instance, climbed after the band's music appeared in spots for Honda Motor, Tommy Hilfiger, and Hewlett-Packard. Same for The Black Keys, whose music was in TV ads for Zales, Victoria's Secret, and Sony Ericsson.
Music from composers with published songs sometimes earns more than double the typical one-time $50,000 royalty per advertiser for a 30-second jingle. So nurturing the careers of young talent—and getting commercial rights to their early work—can be lucrative for Mophonics. The ad music company still has licensing rights to about 120 jingles by Foster, who today records for Sony's Columbia label. "Our strategy is to be equity partners with our artists," explains Mophonics co-founder Michael Frick.
Advertisers are taking notice. "The thing we love about Mophonics is that instead of only composing a custom piece, they look for existing music from up-and-coming bands, which is what we're very interested in," says Bruce Bildsten, executive creative director of Fallon, the advertising agency for Cadillac. "They don't just use old music but look forward and help us with searches as well as composing pieces from scratch."
Foster had been waiting tables in Los Angeles for a decade when, in 2008, he met Mophonics's Frick and partner Steph Altman, who hired the aspiring composer. When Foster arrived at Mophonics, he was shocked by how little he knew about writing music. During his first week, Foster went with Altman to pitch Nissan Motor, which wanted an electronic version of a Billie Holiday song it had licensed. "It was terrifying," Foster says. "I didn't read music, and I was trying to figure it out by ear. I was totally freaked out, and I didn't think I'd last a week." Foster says Altman was a calming influence. "I had the benefit of being able to knock on his door, or he'd come over and give me notes," Foster says. "I honestly learned an immense amount from him."
Before it's here, it's on the Bloomberg Terminal.
LEARN MORE