Steven Cohen Snaps Up Mets Share. What's His Game?
by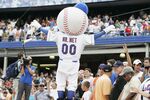 The New York Knicks are the hottest team in town—heck, America—thanks to out-of-nowhere phenom Jeremy Lin. If the Knicks owners were truly opportunistic (not that we are, #Linsanity), they'd call their banker and have some Chinese billionaire wildly overpay for the team. Maybe other bankers are calling the Knicks right now with that very proposition.
Across the East River, meanwhile, the New York Mets need no convincing that they should be selling, especially because they really need the money. You'll recall that the Mets were a high-profile casualty of the Great Madoff Ponzi of '08: Co-owners Fred Wilpon and Saul Katz were investors with Madoff and are therefore being pursued by a trustee seeking recompense for other victims of the bunco. Just weeks away from opening day, the Mets owe $25 million to Major League Baseball and $40 million to Bank of America. Last year, the Mets lost $70 million and had their top player, batting champion Jose Reyes, snapped from them by the Miami Marlins (hardly known to be the most profligate of MLB teams).
Hard-pressed for liquid assets—the Mets failed to seal a deal for a $200 million infusion from investor David Einhorn—management is trying to raise money by selling 10 non-controlling limited partnership shares in the franchise for $20 million apiece. Today, word emerged that the Mets have placed seven of those 10 shares, the most notable of which was snapped up by SAC Capital's Steven Cohen. "King Hedge," as the master investor is known in leafy, "2 & 20" Connecticut circles, is worth more than $9 billion and is in the process of bidding for the L.A. Dodgers (presumably as a consolation effort after failing to buy the Mets). The 55-year-old has a weakness for "trophy art," having been known to spend as much as a fifth of his annual pay at auctions.
So what, pray tell, are the New York Mets selling for $20 million a share?
In December, Richard Sandomir of the New York Times penned a revealing piece on the bennies that limited partners would be privy to. The list includes access to Mr. Met, the team mascot, although "it's unclear whether you could get him to come to your child's birthday party without a fee." There would be one free parking spot at Citi Field, as well as a formal business card that says "Owner." No word on free or discounted dibs on the burgers served up at the stadium's notoriously congested Shake Shack; an express line for limited partners would probably be more compelling.
The Mets's sale of limited partnership shares is an all-or-nothing proposition: All 10 must be sold for the team to bank anything at all.
For my money, the juicy intrigue lies in Cohen's investment. Again, he's supposedly hot for the Dodgers—so much so that he's still in the advanced bidding for a team that could fetch more than $1.5 billion in auction. Could he be playing hardball/brinksmanship with outgoing Dodger owner Frank McCourt? As in: Pick me now or I buy the Mets?
Could Cohen be flirting with Mets owner Fred Wilpon, a friend, to get the latter to sell the team outright to him? A $20 million stake is chump change for King Hedge, and could serve as a call option on the whole team down the line. Cohen is a native of Long Island, which is within view of Citi Field, and he works out of Greenwich, Conn., which is a not-so-bad reverse evening commute to the Mets complex in Queens.
He could well be buttering up to Mets management with a down payment. All of which contrasts sharply with the world view of Mark Cuban, the owner of the NBA Dallas Mavericks, who took a look at buying the Chicago Cubs and the New York Mets. Last year, while appearing on Jimmy Kimmel Live, he used some rarified English to explain his reluctance to buy the Mets. "I've been through this before, but call me crazy," he said. "When I write an $800 million check, I want somebody to kiss my ass. I don't want to have to beg and grovel to write that check."
Before it's here, it's on the Bloomberg Terminal.
LEARN MORE