Q&A: 'Divorce Expo' Founders Discuss the Right Way to Break Up
By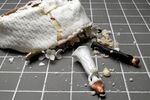 In 2010, two American women—Francine Baras, a 70-year-old therapist, and her daughter, Nicole Baras Feuer, a 42-year-old mediator—traveled to Paris to investigate a distinctly unromantic institution: the divorce expo. What they discovered was a vast, one-stop shop for learning how to navigate the ugliest of legal and emotional terrains, with emphasis on how to drive down the cost of divorce, how to soften its impact in all corners of your life, and how to move on. Inspired by what they saw, they decided to found its American counterpart.
A year and a half later, "Start Over Smart: A Modern Divorce Expo" is set to debut in March in New York City, where an array of panelists—from lawyers to plastic surgeons—will dispense advice. (Much of it will be focused on getting people back into the dating scene.) Bloomberg Businessweek caught up with Start Over Smart's co-founders to learn more.
Do you consider yourselves divorce entrepreneurs?
Nicole Baras Feuer: Absolutely. I was in the store this morning, and I happened to be walking by the magazine section. And I saw a whole slew of bridal magazines, and I was thinking, You know, there needs to be an outlet like that for divorce. There is no divorce magazine, and I think that's how we're seeing the expo. There are tons of things out there in every area, like bridal, and we wanted to get everything that goes with divorce under one roof. So yeah, we feel like we're taking all of the resources out there for people going through divorce and starting over, and bringing it to them under one roof.
Do you guys believe in love?
Francine Baras: Absolutely, we believe in starting over. The concept is about the facts you need to know to get through divorce. You need to know facts about your children. You need to know about your finances. You need to build your own community of people. Love is part of this. The second part of the expo is about how to date, how to be seductive, let us start your life over.
Nicole: Part of the expo is about how to get the right divorce for you. What process. What planner. A big part of the expo is about how to get back into the dating world. There are many speakers on that topic. I myself am a divorcée. And I very much believe that there is more love out there.
What's the biggest difficulty you've encountered?
Nicole: Really none at all. It's taken us a year and a half. From the get-go, people have been so excited to be on board. There were some people at the beginning who were uncomfortable with the idea of a divorce expo, but I have to say, that was very much the minority.
Francine: You have to remember that 50 percent of marriages end in divorce. Most of the people we're talking to have been divorced, and they wish that they had something like this when they were going through their own. There are a lot of people with a lot of empathy for this kind of thing.
What's the most common screwup that people going through a divorce make?
Nicole: The biggest error is not concentrating on your children. People look back and wish they knew how to tell their children and how to get them through this process. There are three different ways for people to get divorced, but people often think of only litigation. Collaborative law and mediation are also out there, and we're going to be explaining those options. People spend too much money on their divorce.
One can expect to hear about the financials and the psychology. But what are some of the more unexpected things they can learn at this convention? For instance: What can they learn from laser cosmetics?
Nicole: We have a whole beauty section. Part of getting divorced and starting over is wanting to transform yourself—to feel better and look better. We really are taking a holistic approach to this. It's very important that you feel your best when you get back into the dating world. People want those tips. About hairstyles and clothes, especially if they haven't been shopping. We'll have Macy's there to talk about dating clothes and work clothes for women going back to work. It's not that we're promoting laser surgery, but we're giving people all of the options that can make them feel better.
I see there's an LGBT panel on the schedule. Are you seeing a lot of gay divorces?
Nicole: I don't think we've seen a rise in them yet, but we will. We want to show people their options and what it would look like. The rules and laws around same-sex divorce are very, very complicated. We want to have it there for people who want that information. We didn't want to forget about that.
What's the next step for you guys in building the divorce brand?
Nicole: We hope that New York will be an annual event, and not only do we want to have expos across the country and in all the large cities, but we hope our website will be an online resource for people who want this information. We want people to feel comfortable with good, quality professionals, because there are a lot of bad ones out there.
You could expand to cruises.
Nicole: You're right! The options are endless. We wanted to start with this one and see how it goes. We're expecting there to be a huge turnout, and we'll see. We have a lot of options.