Now Italy's Monti Wants to Save Europe
Italy's Prime Minister tells France and Germany that Europe needs growth as much as austerity
By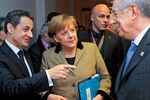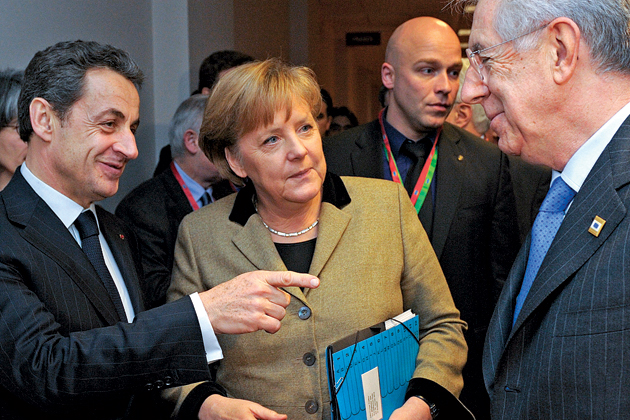 In November, Mario Monti, the former European Union official and academic, was tapped by Italy's President to form a government after Silvio Berlusconi's regime crumbled. At the time, heavily indebted Italy looked like the next domino to fall.
Under Monti as Prime Minister, Italy has done the unthinkable: regained investor confidence. His government has pushed through €20 billion ($26 billion) in austerity measures, and moved to deregulate services and reduce red tape. He's pursuing plans to simplify the tax code and overhaul rigid labor rules. Helped by the European Central Bank's liquidity injections into the euro area's banks, Italy now enjoys lower borrowing costs: The yield on a 10-year bond has fallen by about 1.5 percentage points since Monti took office, easing fears the nation would struggle to pay its $2.5 trillion debt. Monti "has been a game-changer," says Nicholas Spiro, managing director of Spiro Sovereign Strategy in London.
Italy is hardly solved: Left-wing unions bitterly oppose Monti's push to change labor laws, growth is almost nonexistent, and that debt isn't going anywhere. Yet Monti is launching a new crusade: He wants Europe to stop focusing exclusively on austerity and cultivate growth as well. He's not talking about growth inflated by stimulus packages and more borrowing, rather a program of deregulation that would unleash growth in Europe.
The region's single market still has a surprising number of trade barriers. Among other measures, Monti would break up professional guilds, ease labor rules in the EU, and enforce antitrust laws more strictly. It's hard to figure out how much growth such a policy would trigger. Angel Gurría, head of the Organization for Economic Co-operation and Development, said on Feb. 6 that Monti's efforts in Italy, including deregulation and labor reforms, could boost Italy's economy by 8 percent over the next decade.
Monti's pro-growth argument has set him at odds with German Chancellor Angela Merkel and French President Nicolas Sarkozy. "Merkozy" has prescribed the bitter medicine of spending cuts and tax increases for Greece, Italy, and other ailing euro zone members. But Monti has the credibility to debate on equal footing. As EU competition commissioner in the 1990s, when Sarkozy and Merkel were still junior ministers, he slapped a record €497 billion fine on Microsoft for antitrust violations. Over the years he has repeatedly criticized France and Germany for being the first to violate EU budget rules in 2003. On Feb. 15, when the Greeks were being pushed for more concessions in bailout talks, Monti told reporters that Athens was under "excessive" strain from austerity measures that have kept Greece in recession. The same day he told the European Parliament that "resentments" building up in the EU risked breaking it apart. "There are no good guys and bad guys—we all need to feel jointly responsible."
Hours before Europe's leaders unveiled a bailout for Greece on Feb. 21, Monti announced that the leaders of 12 EU states had written to European Council President Herman Van Rompuy and European Commission President José Manuel Barroso, urging them "to answer the plea" of Europeans to help promote growth by eliminating rules that quash competition in key sectors such as financial services and energy. Italy's Corriere della Sera claimed the letter was by Monti and U.K. Prime Minister David Cameron. "The letter pretty much reflects the punching line of Monti," says Silvio Peruzzo, an economist at Royal Bank of Scotland. Merkel and Sarkozy didn't sign.
While Merkel has praised Monti for "remarkable measures" in Italy, she has been less enthusiastic about his deregulation drive. "I'm still looking for what more we should do," she told reporters in Berlin on Jan. 18. "When I have figured that out, I will tell you." Monti's "reasonable assertiveness" is turning into "self-confidence, which some people in Germany may feel is slightly misplaced," says Christian Schulz, economist at Berenberg Bank. Still, Monti's proposals have struck a chord. "Balanced economic growth is key to the survival of the single currency," says Riccardo Barbieri, economist at Mizuho International in London. "If Italy makes further progress putting its house in order, Monti's proposals will gain in influence."
Before it's here, it's on the Bloomberg Terminal.
LEARN MORE