Michael Jordan Wants Respect for his Brand in China
By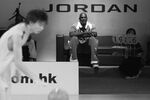 Michael Jordan is used to winning big on the basketball court. Now the retired NBA great is taking on a new challenge, this time in a Chinese law court. On Feb. 22, Jordan announced he is suing a Chinese maker of sportswear and shoes, Qiaodan Sports, for allegedly using his name without authorization. (Jordan's name in Chinese is Qiaodan.) "I am taking this action to preserve ownership of my name and my brand," he said in a press release.
Good luck with that, MJ. After all, China is notorious as a haven for intellectual property rights (IPR) piracy. Microsoft, to name just one example, has struggled for years to fight against unauthorized versions of Windows and Office. What makes Michael Jordan think he can succeed where Bill Gates has failed? The timing of the Jordan lawsuit is especially interesting, coming just as Apple's fight with a local company for control of the iPad trademark heats up.
But Jordan is pushing ahead and has expressed optimism that the rules of the game in China are becoming more favorable for foreigners like him. Never mind China's notoriety as a counterfeit haven; according to Jordan's website, there's reason to be hopeful. "China continues to make improvements to the IPR regulatory environment to ensure that companies and individuals have a platform to address IPR violations," said a statement on therealjordan.com, a website he has set up to provide information about the lawsuit. Flattering the ref further, therealjordan.com added, "This complaint is in line with China's approach to IPR issues."
Jordan may indeed have a point. Chinese officials no doubt have grown tired of getting lectured by U.S. officials about China's IPR problems. During his meetings with political and business leaders in the U.S. last week, for instance, Vice President and heir-apparent Xi Jinping got an earful about Chinese piracy. Speaker of the House John Boehner bragged on his website that in his meeting with Xi, he cited "deficiencies in China's enforcement of intellectual property laws as an ongoing barrier to stronger economic ties."
Some other NBA stars have already shown that China is making progress in protection of IPR. In China, the biggest star of all is Yao Ming, the former Houston Rockets center who also played for the Chinese national team. Last May, Yao sued Wuhan Yunhe Sportswear, based in central China's Hubei province, for using his name in its brand, Yao Ming Era. According to the official Xinhua news agency, the Wuhan company had become a popular local brand and had plans to expand nationwide. On Dec. 28, Yao Ming, the player, was victorious over Yao Ming Era, the brand, with a Wuhan court ruling for him and ordering the company to pay 300,000 yuan (about $48,000).
Not a huge sum of money, but a win is a win. A year earlier, a court ruled in favor of another Chinese player trying to protect his name, Yi Jianlian, who now plays for the NBA champion Dallas Mavericks.
The timing of Jordan's suit might also be related to a move by Qiaodan Sports to go public. The company in November filed a prospectus for an initial publc offering and warned investors of potential trademark risks because consumers might link Qiaodan with Jordan. "'Qiaodan' is a brand we registered according to Chinese law, and its lawful use should be protected," Qiaodan said in a statement posted on its website yesterday. "We will make further clarification through our website if there's any development."
Before it's here, it's on the Bloomberg Terminal.
LEARN MORE