Intrading on Mitt Romney and Rick Santorum in the Colorado Primary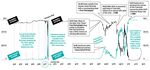 Intrade, an online exchange where investors buy shares in a market that bets on political outcomes, showed Mitt Romney with a sizable lead heading into the Colorado caucuses on Feb. 7. After all, in 2008, Romney won 60 percent of Colorado Republican caucus votes and polls showed him with a 7 percent to 14 percent lead locally and nationally. But as the caucuses assembled in Colorado at 9 p.m. ET, Intraders scrambled to reposition their bets as news broke casting doubt on a once assured win.
Before it's here, it's on the Bloomberg Terminal.
LEARN MORE