Garmin Finds a New Direction
by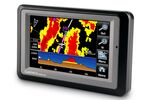 In the pantheon of seemingly obsolete technologies, automobile navigation devices might seem ready to join laser discs and pagers. The auto gadgets that tell you how to get from A to B are being pushed out as cars increasingly have in-dash navigation systems and people use smart phone apps such as Google Maps. Garmin is trying to counter the trend by reinventing itself and moving beyond gadgets that sit on your dashboard.
Now, more than a third of the company's revenue comes from GPS products that have nothing to do with cars. The largest segment is devices for outdoor enthusiasts, such as handheld devices with topographic maps for hikers and tools for hunters to train and track their dogs. That's followed by portable GPS gadgets and watches for athletes, particularly cyclists, runners, and golfers. Garmin also sells GPS products that are built into the dashboards of helicopters, airplanes, and ships.
Garmin's evolution is paying off. Although navigation devices for drivers shrunk 5 percent during 2011, on Feb. 22 the company beat expectations as it announced $910 million in sales in the fourth quarter, up 9 percent from a year earlier. Garmin's quarterly profit increased 25 percent during the quarter, too, and it proposed paying out dividends of $1.80 per share over four quarters. Investors cheered the news, pushing the stock up 9.3 percent to close at $48.86.
Chief Operating Officer Clifton Pemble told analysts on Garmin's earnings call that the company sees more growth in these new lines of business. In the fitness products, for example, people often get the idea of using GPS in their hobbies by trying out apps on their smartphones and later buying a dedicated device as they continue to get more serious about the pursuit. Chief Financial Officer Kevin S. Rauckman said the company is also "investing pretty heavily" in getting carmakers to use Garmin products in their built-in navigation systems. By selling directly to carmakers, Garmin wants to regain a piece of the navigation trend it helped build.
Many analysts, including Goldman Sachs and JPMorgan Chase, responded to the earnings news by raising their target prices for Garmin. Some on Wall Street now see the stock trading as high as $60. For shareholders, that's a step in the right direction.
Before it's here, it's on the Bloomberg Terminal.
LEARN MORE