Freeing Up Spectrum for Rural Broadband
The payroll tax law will free up spectrum for rural broadband
By
On Jan. 26, Wilmington, N.C., rolled out a wireless network that links security cameras and offers Internet access in public parks. No biggie. Networked cameras and free Internet are common. What's different in Wilmington is the radio bands the network runs on: unused television channels known as "white spaces" that separate stations.
The Wilmington experiment shows the potential benefit of a measure tucked into the payroll tax cut law signed by President Barack Obama on Feb. 22. The Federal Communications Commission created the white spaces between channels decades ago to prevent stations from interfering with each other, ensuring that, say, The Cosby Show in Washington wasn't compromised by The Simpsons on the same frequency in Baltimore. The new law opens up the white space channels for "unlicensed" use.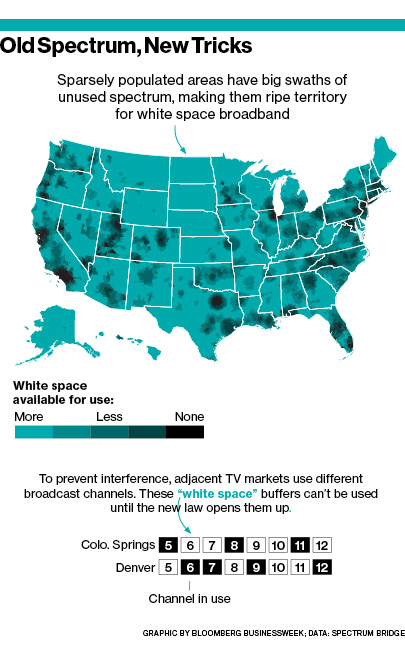 Unlike the spectrum controlled by carriers such as AT&T and Verizon Wireless, which is reserved for specified companies, unlicensed bandwidth is open to any user with an approved device. Wi-Fi, microwave ovens, baby monitors, and cordless phones all use frequencies that the industry calls the "junk band." These radio waves can't easily penetrate walls and are hard to maintain over long distances. The TV frequencies where the white space is located, by contrast, carry long distances and remain strong even inside buildings.
Since rural areas have fewer TV stations, opening up white space could prove a boon to rural wireless Internet providers, which have struggled to provide service using a more robust version of Wi-Fi. An FCC spokesman says several companies are developing devices that carriers could use to deliver broadband data using white space (Wilmington has one). The new spectrum makes it easier for rural carriers to provide service because "the unlicensed frequencies available today can be stopped by a single leaf," says Forbes Mercy, vice president of the Wireless Internet Service Providers Association, an industry group.
While that could foster a new class of challengers for wireless giants, the payroll tax law also gives the likes of AT&T and Verizon something they've long sought: access to other parts of the regular TV spectrum. This will be divvied up via auctions in which stations will receive a share of the money wireless carriers pay for licenses, a move aimed at persuading broadcasters to give up frequencies.
The FCC has indicated it's concerned about the dominant role AT&T and Verizon play. The two giants control two-thirds of similar frequencies that were auctioned in 2008. In various statements, FCC officials have said they may seek to limit how much spectrum the biggest carriers can buy in the new auctions. AT&T and Verizon say additional spectrum is key to their plans for providing service. In an e-mailed statement, AT&T's external affairs chief, James Ciccone, raised the possibility of a court challenge to any FCC effort to limit his company's participation.
The wireless carriers say only companies with exclusive spectrum licenses would spend the kind of money needed to create robust wireless data networks. Especially in sparsely populated areas, big carriers say it doesn't pay to build infrastructure without some guarantee of exclusivity. The new auctions will lead to "faster, more ubiquitous wireless broadband service," CTIA–The Wireless Association, an industry group, said after the House passed the payroll tax bill on Feb. 16.
Yochai Benkler of the Berkman Center for Internet & Society at Harvard counters that it would be more efficient to open up spectrum to any use, which could lead to more innovations like the development of Wi-Fi in the junk band. The carriers often cite data from Cisco predicting 78 percent annual growth in data traffic to tablets and smartphones through 2016. Benkler, though, points to ComScore research showing that Wi-Fi is responsible for much of that growth: iPhone users get 47 percent of their data via Wi-Fi and iPad users get 91 percent. With the new legislation, Congress has made it possible for something similar to happen with the higher-quality frequencies reserved for TV today. "There's this deep-seated idea that spectrum is like pipe," Benkler says. "It was a decent idea 70 years ago, but it's no longer correct."
BOTTOM LINE -
The bottom line: The payroll tax law will open up so-called white spaces—empty channels that separate TV stations—to wireless data providers.
Before it's here, it's on the Bloomberg Terminal.
LEARN MORE