For Sale: The London Metal Exchange?
The London Metal Exchange has drawn multiple takeover bids
Agnieszka Troszkiewicz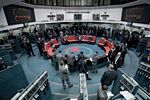 Martin Abbott has been a fashion journalist, advertising salesman, pub manager, security guard, and coal miner. The chief executive officer of the London Metal Exchange, the world's biggest metals market, may soon be a dealmaker. More than a century after being founded above a hat shop in London's financial district, the bourse is considering ending its independence. Thanks to the global boom in commodities, trading on the LME has reached record levels, making it an attractive takeover target. In September the company, which is owned by its members, including Goldman Sachs Group, Barclays, and Citigroup, said it had received more than 10 "expressions of interest" from potential acquirers. Earlier this month, Chris Evans, a spokesman for the LME in London, said the bourse had received a "good number of bids" and that the board will meet on Feb. 23 to consider them.