For Sale: The London Metal Exchange?
The London Metal Exchange has drawn multiple takeover bids
Agnieszka Troszkiewicz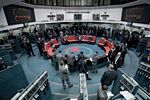 Martin Abbott has been a fashion journalist, advertising salesman, pub manager, security guard, and coal miner. The chief executive officer of the London Metal Exchange, the world's biggest metals market, may soon be a dealmaker. More than a century after being founded above a hat shop in London's financial district, the bourse is considering ending its independence. Thanks to the global boom in commodities, trading on the LME has reached record levels, making it an attractive takeover target. In September the company, which is owned by its members, including Goldman Sachs Group, Barclays, and Citigroup, said it had received more than 10 "expressions of interest" from potential acquirers. Earlier this month, Chris Evans, a spokesman for the LME in London, said the bourse had received a "good number of bids" and that the board will meet on Feb. 23 to consider them.
Among those expressing interest were CME Group, NYSE Euronext, and IntercontinentalExchange, according to three people with direct knowledge of the matter who declined to be identified because the negotiations are private. The companies declined to comment.
The exchange, which says it handles more than 80 percent of global trade in nonferrous metals futures, is worth about $1.3 billion, according to Diego Perfumo, an exchanges analyst at Equity Research Desk. "We didn't put ourselves up for sale, and we're not trying to be sold," Abbott said in an interview on Feb. 8 at his office on Leadenhall Street, where the only view is the exchange's trading floor. "We can't stop people coming and offering us money. We have an obligation to show those bids to the shareholders, but that doesn't mean that we're for sale."
The LME has operated independently since it started trading tin and copper in 1877, later adding other nonferrous metals, such as aluminum, nickel, zinc, and lead. Since Abbott's appointment in 2006, the volume of transactions has increased 69 percent and their combined value advanced 90 percent, as a decade-long bull market in commodities accelerated. The LME index of six industrial metals climbed 7.5 percent in the first seven weeks of this year.
Abbott, 51, achieved that growth while retaining London's last so-called open outcry trading floor, a 20-foot-wide pit that handled about 20 percent of the exchange's transactions in 2010. Its origins are in the Jerusalem Coffee House in the financial district, where metals traders met in the early 19th century. Of the LME's 93 members, 12 have the right to trade on the floor. Brokers also trade through the bourse's Select electronic platform and by phone.
The career that carried Abbott to the CEO's office included running a pub after he earned a law degree at the University of Leicester in central England and a decade-long stay in Connecticut that ended with him becoming president of AMM, a publisher of information on the metals industry. As a student he worked at an open-cast coal pit near the northern English city of Leeds.
His enthusiasm for commodities dates to his first view of the exchange in 1984 while he was a reporter at Metal Bulletin, a news and data service. "It pressed all the right buttons," Abbott says. "It was a complete mystery what was going on, but it was quite clear that what was going on was exciting, international, it involved lots of money, lots of customers, lots of countries." He also is passionate about poetry, from Sylvia Plath—he keeps a collection of her works on his bedside—to Leonard Cohen, "one of the greatest poets of the last 100 years."
To expand the exchange, Abbott has turned to new products, such as cobalt and steel contracts, and mini-contracts—which allow traders to buy and sell smaller amounts—in copper, aluminum, and zinc. To take advantage of increasing Asian demand for metals, he opened the LME's first overseas office in Singapore in 2010. The LME traditionally has kept the fees its traders pay to use its platform low, generating net income of £9.5 million ($14.9 million) in 2010, as $11.6 trillion of contracts changed hands. Abbott is trying to push through an increase in the fee, but some board members have opposed that effort.
Now the board must decide whether to continue resisting the wave of mergers that saw rivals combine and swallow each other. CME, based in Chicago, acquired the New York Mercantile Exchange for $7.6 billion in 2008, and Atlanta-based ICE bought the New York Board of Trade in 2007 for $1.79 billion. London's International Petroleum Exchange was bought by IntercontinentalExchange in 2001, and Euronext bought the London International Financial Futures and Options Exchange in 2002. "If you go back to all the amalgamations of early 2000s," says Thomas McMahon, a former CEO of the Singapore Mercantile Exchange, "the LME is like the last man standing."
Before it's here, it's on the Bloomberg Terminal.
LEARN MORE