ETAP Yachts Rebranded as Armageddon Life Rafts
A storied brand of unsinkable yachts hopes to profit from Armageddon
Eric Spitznagel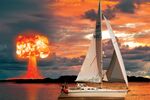 Early this winter, fans and owners of ETAP yachts noticed something peculiar on the official ETAP Yachting website. Although new ETAPs haven't been produced or sold commercially in the U.S. since early 2009, when the Belgian yacht company that designed and built the classic ships declared bankruptcy, the site appeared to have been updated recently. First there was the mood music, The Last Farewell by Roger Whittaker, with lyrics about "death and darkness" and sailing into hell. Even more distressing was an ominous passage on the site's home page under the heading "How to survive 2012?" The text warned of a "tidal wave" that could only be escaped if "present and future owners" of ETAP yachts worked together to save enough people "to start a new civilization." (Last week, it was moved to the website's news section.) On online yachting forums, there was speculation and confusion over what had happened. Some wondered whether the ETAP site had been hacked.
Those who delved deeper into ETAP's revamped site found links to the website of Patrick Geryl, a Belgian author and doomsday proselytizer. By Geryl's estimation, a reversal of the planet's magnetic field should be happening right around the time the Mayan calendar ends on Dec. 21, 2012, leading to, in his words, "pure unimaginable horror," which could take the form of nuclear meltdown, volcano eruptions, and—of particular interest to ETAP owners—flooding of biblical proportions.
Geryl's enthusiasm for all things ETAP reads suspiciously like a sales pitch. "ETAP is the only producer in the world of comfortable, unsinkable yachts," he writes in his 2007 book, How to Survive 2012. Geryl, who lives in Antwerp, Belgium, insists he wasn't paid for his promotion. "I only do it because they are the best and there are no alternatives," he says. "This is for the survival of humanity." He admits, however, that he probably won't be on an ETAP yacht come December. "I get very easily seasick," he laughs. Instead, he says, he plans to ride out the apocalypse in a small bunker in the mountains of Drakensberg, South Africa.
Geryl's relationship with ETAP began several years ago, when he discussed the boats on a handful of TV news shows in Europe (none of which he can recall) with representatives of MIC Industries, the engineering and construction company based in Lokeren, Belgium, that currently owns the ETAP brand. Toni De Pape, manager at MIC Industries, sees nothing unusual about featuring all ETAP endorsements on its website, even if they happen to be from survivalists. He says it was not MIC's intention to make Geryl the new unofficial spokesperson for ETAP, but concedes that "whatever helps our brand is OK with us."
It's a bizarre second chapter for one of the most acclaimed and beloved yachting brands in recent history. Founded in 1970 by Belgian entrepreneur Norbert Joris, ETAP built boats that were universally praised as innovative and ahead of their time. (The company's name dates back to its days as a lighting supplier and stands for, in English, Electro-Technical Apparatus.) They feature a unique hull-within-a-hull design; the gap in between is filled with a nonporous polyurethane foam, making it practically impossible for the inner hull to fill with water. It's a design concept that has won more than a few accolades, including Yacht magazine's coveted Innovation Prize in 2006.
But as the company's reputation grew, so did its ambition. "They started making bigger and bigger boats," says David Morris, brokerage and new-boat sales manager at Tollesbury Marina in Essex, U.K., and an ETAP broker for 12 years. "The volume of sales started to decrease. They just weren't able to cover the costs." The company was bought by German yacht-building shipyard Dehler in 2008, which went bankrupt just eight months after the takeover. MIC purchased the ETAP name in March 2009 for an undisclosed sum, including all the original factory molds and design instructions. Rebuilding the brand should have been easy, according to Morris. "The people at MIC are engineers," he says, "so they were the perfect company to manufacture boats." Yet, he says, after several years of promises and encouraging e-mails, MIC has not built any boats, and Morris doesn't expect them to begin anytime soon. "They've not filled us boat dealers with any confidence at all," he says. "It's really quite sad what's become of the ETAP brand."
Toni De Pape tells a very different story. "We are continuing," he says of the company's yacht production. "Never have we thought anything about stopping." He says ETAPs are back on the market and now available throughout Europe, India, China, and, he promises, will be in the U.S. and other parts of the world "in the next weeks or months."
If the yachts are available for sale, it isn't information they've shared with many of the official dealers listed on the ETAP website. Captain Jean "John" De Keyser, owner of Yachting Vacations, a yacht brokerage in Punta Gorda, Fla., says he's met with representatives of MIC in Belgium "on two occasions, and it doesn't look as if there has been any progress with new construction." In Morris's estimation, MIC has "nothing going on, except for that very strange website."
The strange website may be just the beginning. After weeks of applying pressure, Geryl says he persuaded the company to act as a global doomsday preparation database. It agreed last month to post information on its website about dozens of ports in countries across the world—including Holland, France, Germany, Canada, Australia, Japan, Spain, Italy, and India—where current or future ETAP owners could meet and form alliances with would-be passengers to prepare for the end of the world. "It's not a sales pitch to sell boats," Geryl insisted, shortly after the announcement. "Only the boats that have already been sold can participate."
According to De Pape, MIC plans to produce 200 to 300 yachts this year. The doomsday ports, he says, are "something for our customers that could be of interest." Later, he backtracks in a follow-up e-mail. "ETAP Yachting has never sponsored nor is connected in any sense to [Geryl's] book and publications," he insists.
Geryl admits he's received no money from MIC, but doesn't agree that the company is completely uninvolved. When he recently produced and funded a commercial for ETAP yachts, which premiered on YouTube this month, promoting an "exclusive offer" from a "company dedicated to ensuring the survival of our civilization," he did consult with De Pape. "I asked what to put in it and which changes he wanted," Geryl says. The finished product, which features photos from the ETAP website, provides vague instructions for avoiding the cataclysmic tidal wave in late December. "When you see the sun brightening up far more than usual," the video warns, "immediately set course to the open sea." With the existing ships, which can comfortably hold four persons per boat, they propose to save 10,000 people. According to the video, that's "more than enough to start a new civilization."
Asked if he personally believes the world will come to an end this year, De Pape hesitates. "I am no specialist," he says. "Even if it was 95 percent certain that the world could collapse next month, I think for myself, I would just be practical. You continue to come to work every day." As for ETAP dealer De Keyser, he's not holding his breath, either for the end of the world or new ETAP boats. But he still has one used ETAP for sale on his lot, originally listed at the low price of $119,000. After viewing the ETAP commercial on YouTube, De Keyser says he's reconsidering his options. "If anyone takes this seriously," he laughs, "then mine is for rent for $250,000 in December. Charter fee payable in gold ingots."
Before it's here, it's on the Bloomberg Terminal.
LEARN MORE