China's Savers Wise Up to Above-Market Rates
Savers' search for higher yields may undermine the system
Bloomberg News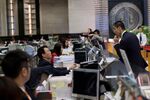 Lin Baozhen, a 61-year-old retired accountant in Shanghai, was a dream customer for Chinese banks. For a decade she kept her money at China Construction Bank in an account currently paying 3.5 percent interest. No more. This month, Lin moved half her 800,000 yuan ($127,000) savings into a 95-day investment product offered by the bank that guarantees the principal and pays 5.5 percent annualized returns. That's one percentage point above the latest inflation rate. "I am not investment-savvy, but it would be stupid of me if I just leave the deposits there doing nothing," says Lin in the lobby of her bank branch in Pudong. "The math is simple. I need something safe and with a return that can at least beat inflation."
Lenders are going all out to keep savers such as Lin who are no longer content with interest rates that don't keep pace with rising prices—even if it means taking losses on the accounts. Shenzhen Development Bank is giving away gold necklaces from Hong Kong jeweler Chow Tai Fook to those willing to park at least 600,000 yuan with the bank, according to Ke Jieru, a manager at the bank's Shanghai branch. Such depositors will also be eligible to buy a 90-day investment product with an expected annual return of 6.6 percent, she says. Bank of Communications, based in Shanghai, is granting its best customers, those investing at least 500,000 yuan over three months, a 5 percent discount on the five-year benchmark lending rate of 7.05 percent when buying their first homes.
The marketing campaigns seem to be working. Depositors bought 16.5 trillion yuan of what banks call wealth management products in 2011, more than double the amount a year earlier, according to Benefit Wealth, a Chengdu-based data supplier that tracks the market. At the same time, deposit growth at Chinese banks last year slowed to 12.7 percent after rising 20 percent in 2010, central bank data show. In January depositors pulled 800 billion yuan from savings accounts, about 1 percent of the total, the central bank reported. It was the largest monthly decline in at least 12 years, according to data compiled by Bloomberg.
To pay higher returns on wealth management products, most banks invest the proceeds in the money market—where they could earn 5.28 percent as of Feb. 16—and supplement that by borrowing in the interbank market. "As this activity grows and you have more and more payout to meet, whatever resources you have on hand that would normally go to lending are increasingly going to pay off these other obligations," says Chu. "It's drawing away a lot of resources from credit."
The popularity of wealth management accounts may undermine the stability of the $1.8 trillion banking system, say analysts including Charlene Chu, a Beijing-based senior director at Fitch Ratings. Banks generally lose money on the accounts, since they pay above-market rates. Also, under banking rules, money moved out of savings accounts into wealth management products no longer counts as deposits, reducing the ability of banks to lend—and lending accounts for 70 percent of Chinese banks' revenue. Chinese banks made 738.1 billion yuan in new loans in January, the lowest amount for that month in five years.
Some banks may be using an accounting gimmick to mask the full decline in deposits. Chinese banks often set the maturity date for wealth management products at the end of the month so the cash can be recategorized as savings to meet requirements for month-end loan-to-deposit ratios, says Sheng Nan, a Hong Kong-based analyst at CCB International Securities, the investment banking unit of the nation's second-largest lender. Yu Baoyue, a spokesman for Beijing-based China Construction, declined to comment about the bank's deposits or its accounting practices. Says Ken Peng, a Beijing-based economist at BNP Paribas : "Deposit flight will limit banks' ability to extend lending and support economic growth."
Before it's here, it's on the Bloomberg Terminal.
LEARN MORE