Brian France on Steering Nascar to a TV Deal
On the eve of the Daytona 500, Nascar's chairman and CEO recalls confronting owners and his own family to strike a multibillion-dollar TV deal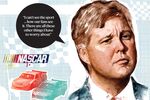 My grandfather founded Nascar more than 60 years ago. When I was growing up, it was really small so I didn't think it would be big enough to be a career opportunity for me. I started working at the company when I was a teenager. I became CEO in 2003. In any family business, you want to make your mark. If you're just going to drive the ship as it was before, then you're probably the wrong person for the job.
I wanted to grow the pie. One way to do that was consolidating the TV rights, which we did in 1999. We couldn't be a national franchise sport without a broadcast package that reflected that. We needed the money to drive the commercial growth of the sport. The networks, like Fox, NBC, TNT, weren't thrilled with that. They had existing contracts with the tracks that needed to be unwound. We were asking them to give up on contracts that were relatively low-priced to get in line to get a bigger piece of Nascar at a higher price. The tracks were used to negotiating their own deals. The drivers wanted to make sure their pie was getting bigger. Then you had all these other considerations like whether we franchised it to one network.
It took 18 months. I had to burn a lot of personal equity to achieve that. There were legal concerns, concerns from the owners, concerns from some members of my family. Getting the [$2.8 billion TV network] deal wasn't the only hurdle. The formula we came up with was 65 percent to the tracks, 25 percent to the drivers, and 10 percent to Nascar. You had to get all these owners to agree on what their slice of the pie was, never mind how big the pie would be. There were arguments.
Unfortunately, I can't see the sport through the prism of how our fans see it. I want to. I try to, and I certainly appreciate a last-lap duel. There are all these other things I have to worry about—standards that have to be met. I'm sure every commissioner would say that. They'd love to watch the game and be a fan all the time but that's not possible. It doesn't mean we don't love the game or the race. It just means we're not in a position to sit down with a pack of peanuts and a cold Coke and watch the sport and have no worries. I hope that, some day, I might. — As told to Diane Brady   
Before it's here, it's on the Bloomberg Terminal.
LEARN MORE