Bid & Ask: The Deals of the Week
Noteworthy expenditures of the week
By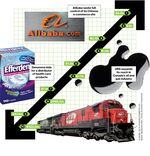 1. British private equity firm BC Partners raised $8.6 billion to pursue leveraged buyouts in Europe. It surpassed its target, thanks in part to investments from sovereign wealth funds.
2. Advent International and Goldman Sachs Group's private equity unit agreed to buy TransUnion, valuing the credit information provider at more than $3 billion.
3. Alibaba Group Holding offered Yahoo! as much as $2.5 billion for its stake in Alibaba.com, aiming to gain full control of China's biggest business-to-business e-commerce site.
4. Royal Dutch Shell bid $1.6 billion for African explorer Cove Energy to gain a foothold in Mozambique, where Cove recently made one of the world's largest gas discoveries in a decade.
5. Japan's Mitsubishi will pay $1.5 billion for a 40 percent stake in Encana's undeveloped Cutbank Ridge natural gas holdings in British Columbia.
6. San Francisco construction company URS will acquire Flint Energy Services for $1.3 billion, expanding its presence in Canada's oil and natural gas industry.
7. Wireless tower operator SBA Communications is buying more than 2,300 tower sites in the U.S. and Central America and other assets from Mobilitie for about $1.1 billion in cash and stock.
8. Fortis, owner of utilities in Canada and the Caribbean, will pay $968.5 million for CH Energy Group, a company that sells power and natural gas to customers north of New York City.
9. Genomma Lab Internacional, a Mexican maker of over-the-counter drugs, has bid $834 million for Prestige Brands Holdings, a distributor of health-care and cleaning products.
10. Cosan Indústria e Comércio, which controls the world's No. 1 sugar port terminal, is paying $522.8 million for a stake in Latin American railroad company ALL América Latina Logística.
Before it's here, it's on the Bloomberg Terminal.
LEARN MORE