pursuits
Automatic Shades Inspire Office Frustration
Smart blinds cut power use, but workers find them maddening
By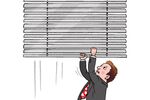 The Seattle building Brent Rogers designed for his architecture firm, NBBJ, has won awards for its natural light, flexible workspace, and sustainability. Yet when Rogers moved in, he soon grew frustrated by a key element of the green design: the automated window blinds, which went up and down with little apparent reason. "At times it seemed random," recalls Rogers. "And at times it was random."
Maximizing daylight can cut a building's lighting bill by as much as 40 percent, sustainability consulting firm Atelier Ten estimates. While window blinds are important in accomplishing those savings, it's fiendishly difficult to get automatic shades to work correctly. That's because light is difficult to model, and the systems are often tied to heating, cooling, and light fixtures. Allowing workers to change one element can throw off all the others, says Atelier Ten director Mark Loeffler. The search is on for ways "to keep buildings looking like cool glass boxes in the sky but still controlling daylight," Loeffler says.
Studies show that once people pull manual shades down, they rarely push them back up, making the office too dark and, sometimes, too cold. In the 1990s architects introduced automated shades, but early versions focused on saving energy and gave short shrift to comfort and aesthetics, says Christoph Reinhart, an associate professor of architecture at Massachusetts Institute of Technology. "You'd have a prized window seat, then Zoop! The shades go down," Reinhart says. "There was a realization that occupants don't accept that."
In recent years the systems have gotten more sophisticated, predicting how much light will hit a given window and aiming to better understand how humans perceive light. Decades of research have led to precise federal guidelines on temperature and humidity in offices, but there are no similar standards for light. The thorniest problem is reflected light and how it hits interior surfaces such as computer screens. "People's tolerance for glare is wildly different," says Rogers. Reinhart uses high-contrast photos of buildings to capture the exact level of light in each location, which helps determine what kind of windows and blinds designers should use. The data can later be fed into computers that operate the shades.
Rogers says it took about a year to fine-tune what he calls the window system's "brains," the software that controls the shades. NBBJ's office uses a relatively simple computer program based on a timer pegged to the sun's projected path. The solution isn't perfect, Rogers says; the shades still go down on some gray Seattle days. Newer technologies include light sensors that detect whether the sun is shining. MechoSystems puts sensors on the roof, then uses a virtual model of the building to predict how the sun will hit lower floors. Some of its systems also have sensors on each floor, and a few advanced designs—the New York Times building in Manhattan among them—have thousands of sensors, both inside the building and on the facade.
Some companies think it's smarter to automate the windows rather than the shades. Upstarts SageGlass and Soladigm make windows that automatically tint darker when in bright sunshine. The German company Schott makes glass with tiny louvers between the panes to reflect sunlight, which reduce heat and glare but still allow some visibility. "As human creatures, we want a view and a connection to the outdoors," says SageGlass founder John Van Dine.
Even the best systems should let workers overrule the computers so they don't feel powerless in the office, says Eleanor Lee, a scientist at Lawrence Berkeley National Laboratory who studies natural light in buildings. Gwen Fuertes, a grad student in sustainable design at the University of California-Berkeley, conducted an informal survey of workers in one building with automated blinds and found that nearly 90 percent were unhappy with their lack of control over the shades in their space. One respondent to the poll wrote that while automation may be good for energy efficiency, it "almost never equals happy occupants."
Before it's here, it's on the Bloomberg Terminal.
LEARN MORE