Why Debit-Card Overdraft Fees Are Under Scrutiny Again
by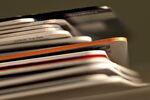 Today the new Consumer Financial Protection Bureau said it is going to take a look at debit-card overdraft fees. If it feels like deja vu, it kinda is. It's been a year and a half since new rules changed how banks can charge for overdrafts, but the fees definitely haven't gone away. Let us explain.
In November 2009, the Federal Reserve moved to rein in the high fees that banks charged consumers who overdrew their accounts when making debit-card purchases or withdrawing cash from an ATM. Overdraft fees, which could run as much as $35 for each overdrawn transaction, were the source of a lot of negative press at the time, as consumers discovered a slice of pizza could cost almost $40 after the fees. The new rules, which went into effect during the summer of 2010, said banks could no longer automatically enroll consumers into overdraft programs; instead, customers would now need to sign up for the service. (Banks could still have automatic fees on bounced checks and online bill pay.)
In theory, that should have dealt a major blow to the overdraft business—after all, who would opt in for a service that could result in a $40 slice of pizza? The changes, however, only made a dent. As we reported in October, overdraft fee revenue to banks from ATM and retail purchases was still on track to top $16 billion last year, just a 16 percent drop from its peak in 2009, according to Moebs Services, a banking consultancy. The rates are still so high in part because many banks launched aggressive marketing campaigns to get customers to sign up, with letters, calls, and e-mails that at times were alarmist warnings of what would happen if you didn't opt in.
Bankers, for their part, say it wasn't marketing that led consumers to sign up—it's because consumers want the ability to overdraw their accounts in a pinch. "This can be a way of getting piece of mind," says the American Bankers Association's Richard Riese. He says even if a consumer didn't fully understand the overdraft fees when he signed up, he'd get notice of the fee on a monthly statement and could opt out at any time. "The light bulb would have gone off real fast if it wasn't what they wanted," he says.
The marketing campaigns are part of the CFPB's review. The agency says it will ask banks for information so it can see whether consumers are fairly informed about the fees and understand how to avoid paying extra. The CFPB is also taking a look at how some banks reorder purchases to process the largest ones first, instead of in chronological order. That allows big purchases to go through, but can leave customers paying overdraft fees for several small transactions. "Banks aren't manipulating payment order; they are setting a payment order and following it," says the ABA's Riese.
Richard Cordray, the CFPB's director, says his agency is looking at overdraft programs because they still have "the capacity to inflict serious economic harm on the people who can least afford it." That very different view of bank products—consumer choice vs. potential abuse—is likely to come up frequently between the industry and its new watchdog.
Before it's here, it's on the Bloomberg Terminal.
LEARN MORE