Q&A: Meet Adam Pervez, the Happy Nomad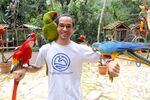 Adam Pervez seemed to have it all when he graduated from Madrid's IE Business School with an MBA in 2009. In a tough job market, he'd landed his dream job, a six-figure position in Denmark working for Siemens Wind Power (SI), helping the company develop capacity for offshore wind turbines. But Pervez soon found himself unsatisfied with the corporate lifestyle, even though he was working in a field he was passionate about. He'd focused on corporate social responsibility and sustainability while in business school and realized he wanted to have a direct impact on poor people in developing countries, rather than help the developed world become more energy efficient. So 10 months later, he did the unthinkable: He quit his job and launched what he has dubbed the Happy Nomad Tour and began traveling the world to put the theories behind corporate social responsibility and social entrepreneurship to the test.
In the past six months, Pervez—who has dubbed himself chief happiness officer—has traveled to 10 countries in Central America and South America, including Honduras, El Salvador, Nicaragua, and Panama, living on just $10 a day. He spends his time volunteering, offering business advice to nongovernmental organizations (NGOs), nonprofits, and family businesses and chronicling his journey on his website. His ultimate goal? He hopes to get the corporate world to think differently about its approach to corporate responsibility, start his own NGO, and inspire MBA students to use their education to help people in the developing world.
Bloomberg Businessweek's Alison Damast recently spoke with Pervez, 29, who just finished a volunteering stint in Colombia, about how he came up with the idea for the Happy Nomad Tour and his future travel and career plans. Here is an edited transcript of their conversation:
What were your career goals when you started out in business school and how have you deviated from them?
It is really funny, because when I look back at the essay I wrote for business school, I mentioned that I wanted to work for a sovereign wealth fund, in the Middle East, Norway, or Singapore. I saw myself doing finance, or something like that. When I got to Madrid, the business school was having a corporate social responsibility forum. I went there, and it was life changing. It really showed me that business can be a source of good and gave a lot of examples of people out there doing amazing things. So I decided that while I was at IE I was going to focus on this and not do something in consulting or finance when I got out.
What was it that initially attracted you to social entrepreneurship and corporate social responsibility while you were an MBA student?
I studied electrical engineering in college and before I did my MBA, I worked in the Middle East for an oil services company in the United Arab Emirates and Qatar, in their oil rigs offshore. To help make the wells more efficient, I set up explosions inside them so oil and gas would start flowing inside when they were freshly drilled. So I'm the guy who did the explosions in the oil wells. I was harming the environment and harming the earth. I had a big debt to society and I had a lot of amends to make. I wanted to spend the rest of my life doing something positive.
After business school, you found what seemed like an ideal job in the corporate social responsibility arena, working for Siemens Wind Power. Why did you decide to leave the company after 10 months?
It was the perfect post-MBA job and exactly what I wanted. I was living the dream, and I was making $105,000 a year. But after three months I got a feeling in my stomach, and I asked myself, "What now, what is the next step?" I'd achieved everything I wanted, but I didn't feel good about it. I thought, "What is wrong with me?" I did my own happiness plunge and tried to find out what my passions are and what my ideal life would be. I knew I wanted to travel, volunteer, write my blog, learn something new every day, and tell stories, so that's how I came up with the Happy Nomad Tour. I wanted to use my education to be an ambassador and an advocate—and give back.
You've visited 10 countries since starting the Happy Nomad Tour last August, and you've been able to put the ideas behind corporate social responsibility and social responsibility to the test. What are examples of projects where you used your business skills to improve peoples' lives?
I started out volunteering and cleaning cages at a dog shelter in Mexico, so initially I was applying zero of my MBA. But as time has gone on, that has changed. I've volunteered at a co-op of Mayan women in Honduras and built them a website where they can sell their work to a wider audience. The only electricity they had came from car batteries, so I installed solar panels in the village, using my electrical engineering background and Siemens Wind Power skills. In El Salvador, I worked with an NGO that is only a year old. They're trying to construct very low-cost housing and rural libraries for people in villages but were having funding problems. I helped them develop a more sustainable funding model so they would have more money coming in and not be so reliant on donations. I stay at a lot of hostels that are often small, family-run places, and I often find myself doing marketing and strategy and helping them build their small businesses. For example, in Panama, I stayed with a family trying to offer their home as an eco-tourism hotel and helped them with their advertising and publicity campaign.
You'll still be on the road with the Happy Nomad Tour for at least another year or two visiting Asia and the Middle East, but what do you see as your long-term goal when you've completed the journey?
I'm learning new things every day, and it is definitely snowballing into something. I could see myself starting an NGO based on a model that is financially sustainable through creating local employment, like the organization I helped in El Salvador. I don't think I could see myself returning to the corporate world, but I'd like to share my ideas with executives about how they can be part of the solution. And last, I'd love to speak to MBA student to inspire them to think differently about their education—as in how to apply it to solving the many problems that exist in the world today. I'd like to show them via my example that one need not pursue finance or consulting post-MBA. There is a world of opportunities available to MBA graduates, literally.