Prepare for the Padfone
by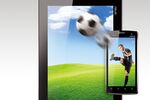 Is it a bird? Is it a plane? No, it's a Padfone.
Come Feb. 27, Asustek—aka Asus—will unleash a strange mobile device called the Padfone upon the world, according to a party invitation making the press rounds. The Padfone does just what its name suggests by merging a smartphone with a tablet computer. The smartphone looks like your standard Android-based device and slots into a compartment at the back of the tablet, which again looks like your standard Android hardware. One nice touch on the tablet is a hatch that closes over the smartphone, restoring the smooth lines to the shell.
Asus, the Taiwanese computer and device maker, will show off the much-hyped Padfone at the annual Mobile World conference event taking place next month in Barcelona.
The Padfone may sound a bit like a Frankenputer, with its hybrid approach, but the logic behind it seems sound. People can have the same files, contacts, and so forth, on their smartphone and tablet and use whichever device best suits their need at a given moment. Both devices share a single SIM card, and the bigger battery in the tablet can be used to recharge the smartphone. Convenience abounds.
Asus has had some success pioneering new form factors. It basically created the netbook category that was the talk of the PC world for a couple of years. That strong run with mobile computers helped turn Asus into a proper, global brand.
PC Gizmo Syndrome?
These days, however, the company is suffering from the same syndrome as its PC counterparts. Consumers have flocked to smartphones and tablets but don't seem to want to buy these products from traditional computer companies. Time and again, Asus, Acer, Hewlett-Packard, and Dell fling out new attempts at mobile products. Time and again consumers ignore those devices, opting to buy their New-Age gear from Apple, Samsung, and HTC. (Lenovo has enjoyed modest success selling smartphones in China.)
At one point, HP's management clearly thought it would take something drastic to get consumers to think of the company as a more modern device dealer—hence the Palm acquisition. With the Palm products scrapped, HP again finds itself in the same position as its peers: making devices powered by Android software and Windows Mobile. It's a very crowded market.
Give Asus credit for thinking different. Alas, if history is any indicator, consumers will pass on the Padfone, just as they have with the litany of devices produced by the PC set.
Before it's here, it's on the Bloomberg Terminal.
LEARN MORE