Goldman vs. the Programmer: Bad News All Around
by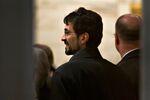 After learning that former Goldman Sachs computer programmer Sergey Aleynikov had been released from prison, his felony conviction overturned by a federal appeals court on Feb. 17, I had a flashback to July 2009. On a Saturday morning that month, a few weeks after Aleynikov was arrested for downloading a portion of Goldman's trading code—for which he was later convicted and sentenced to eight years in prison—I decided to take a drive to see Aleynikov.
At the time I was a reporter for Newsweek. Since Aleynikov wasn't answering my e-mails or phone calls, I figured there was at least a chance he'd answer his front door—which he did when I knocked after renting a car and driving to his home in Caldwell, N.J. Clad in black socks and sandals, a T-shirt and jean shorts, and with an acoustic guitar around his neck, Aleynikov swung open the door of his million-dollar McMansion and greeted me politely. I don't remember what I said, but I remember his words exactly: "Goldman Sachs is a great place to work. Talk to my lawyer." And with that, he shut the door.
When Aleynikov was arrested at the Newark airport, a mere 48 hours after Goldman had alerted federal authorities, he'd just taken a job with Teza Technologies, a trading firm in Chicago. During his last week at Goldman, the Russian-born programmer had downloaded about 32 megabytes of Goldman's 1,000-megabyte algorithmic trading code. Often referred to as the bank's "secret sauce," the code was arguably one of Goldman's most valuable assets, the heart of the superfast proprietary trading system it unleashed each day to scour markets for tiny price differentials. In the first half of 2009, having emerged from the financial crisis in better shape than rival banks—thanks to U.S. taxpayers and $5 billion from Warren Buffett—Goldman increased its risk-taking and made a killing from its aggressive high-frequency trading strategy. Its second-quarter profits soared to a record $3.4 billion in 2009; the bank posted full-year net income of $13.4 billion.
Goldman was at the height of its post-crisis power. Aleynikov's lawyer back then was an overworked public defender. She didn't stand a chance against Goldman and the federal government, which charged him with theft of trade secrets and interstate transportation of stolen property, both felonies. The prosecution quickly became the poster child for the government's zeal of going after financial and computer crime.
During Aleynikov's 2009 preliminary hearing, Assistant U.S. Attorney Joseph Facciponti told the judge that if the trading code fell into the wrong hands it could be used to "manipulate markets in unfair ways." To me, that raised an obvious question: If that's true, then what was Goldman doing with it? The prosecution alleged that Aleynikov intended to share Goldman's trading strategy with his new employer, and that's why Teza planned to pay him $1.2 million per year.
Aleynikov admitted to downloading a piece of the code, breaking Goldman's confidentiality agreement, but maintained that the bit he took was mostly open-source code, and that he had no intention of using it to Goldman's detriment. After a two-week trial in December 2010, Aleynikov was found guilty of violating the Economic Espionage Act, the Interstate Transportation of Stolen Property Act, and the Computer Fraud and Abuse Act. He was sentenced in March 2011, and has spent most of the last year in federal prison in Fort Dix, N.J.
In April 2011, Aleynikov obtained a seasoned trial attorney, Kevin Marino. During oral arguments before a three-judge appeals court panel on Feb. 16, Marino argued that, since Goldman doesn't license or sell its trading system, Aleynikov had not violated the espionage law. Marino also claimed that since Aleynikov had authorized access to every aspect of Goldman's trading system, he didn't qualify as a hacker, and thus had not committed computer fraud or abuse, either. The next day, the court issued a terse, one-page order reversing Aleynikov's convictions, saying that an opinion would follow "in due course." Whenever that opinion is issued, prosecutors have 30 days to petition the court for a rehearing. If denied, prosecutors could appeal to the U.S. Supreme Court.
Although he's ecstatic about his release, Aleynikov's life has been all but ruined, according to his lawyer. His wife divorced him. He lost his house in New Jersey, not to mention his million-dollar job at Teza. Aleynikov is staying with friends, plotting his next move. "He's screwed," Marino says.
At the same time, the reversal is certainly a setback for Goldman and prosecutors, who appeared eager to do the bank's bidding in mid-2009. It's also a reminder of how much the world has changed in the past three years. Thanks to the pending Volcker Rule, Goldman and other banks have been forced to dismantle their proprietary trading platforms. The firm, like others, has dialed back on risk. And Goldman's era of multibillion-dollar quarterly profits may be a thing of the past. Last year, Goldman posted only its second quarterly loss since going public in 1999, and ended 2012 with earnings down 58 percent.
Over the past two years, Goldman's stature has been sullied quite a bit. At the time of Aleynikov's arrest, Chief Executive Officer Lloyd Blankfein had yet to tell a reporter for the Times of London that Goldman was "doing God's work." Nor had Goldman paid out huge bonuses a year after being bailed out by the government. It had not yet been fined $550 million by the Securities and Exchange Commission for misleading clients by packaging securities that were intended to fail. Nor had one of its former directors been charged with insider trading.
In a statement to Bloomberg Businessweek, Ellen Davis, a spokeswoman for U.S. Attorney Preet Bharara, said that Goldman's influence in 2009 had nothing to do with Aleynikov's case. "Our charging decisions in every case are based exclusively on the facts and the evidence," she wrote. "We prosecute individuals and entities who violate the law, regardless of their status, when we believe we can prove the charges beyond a reasonable doubt as we did in the case of Sergey Aleynikov."
Still, it's easy to wonder whether, approached by Goldman today with similar allegations, federal prosecutors would be so eager to help the firm.
Before it's here, it's on the Bloomberg Terminal.
LEARN MORE