Mardi Gras Beads, Strings Attached
By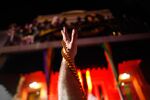 If you're in New Orleans today, you may want to read this in the morning, to accompany your hangover—and the beginning of the 40-day guilt spree known as Lent. Mardi Gras celebrations come to a head today in the Crescent City. Days of rowdy celebration will leave the city's streets, trees, and topless revelers bejeweled in strings of Mardi Gras beads, perhaps the most recognizable symbol of good times on Bourbon Street. It's a time for indulgence. Before we lift our shirts, though, consider that these party favors come at a cost, says filmmaker David Redmon.
According to Redmon's 2005 documentary, Mardi Gras: Made in China, workers at a bead factory in Fuzhou, China, are paid per bead, earning an average 10¢ to 12¢ an hour. Teenage girls are exposed to chemical manufacturing and painting beads shaped like penises and breasts for a moment of drunken amusement that happens overseas.
"The working conditions are pretty demanding, but they [the workers] want to be there. They want to make money and save money to start their own businesses," says Redmon. "The reality is none of those workers will make enough money to start their own businesses because they send so much money home and their wages are deducted [if they don't reach their quota]."
As Nightline airs an inside look at working conditions in Apple's contract manufacturer Foxconn tonight, Americans are reminded of the consequences of outsourcing our articles of decadent self-indulgence to Chinese labor.
The beads, once made of glass and imported from Czechoslovakia and Japan before China started shipping out safer ones made of plastic, are a staple in Fat Tuesday celebrations. New Orleans receives up to 25 million pounds of plastic beads every year, reported the Los Angeles Times.
Data from Panjiva, a New York company that collects information on global trade, show that the top suppliers of Mardi Gras beads to the U.S. include Sunrise Party Products in Hong Kong and Giraffe Garden in Guangdong, China. During the parades, celebrants catch fistfuls of necklaces, used as currency in "beads for boobs" exchanges, but like many events, the fun is ephemeral. After the holiday, these single-use props mostly end up in landfills.
This has attracted attention from the environmentally concerned. Efforts by the nonprofit Arc of Greater New Orleans to recycle and resell the beads resulted in the collection of 100,000 pounds of beads in 2011. The group expects to collect 150,000 pounds this year, reported WGNO New Orleans.
Artist Stephán Wanger, who has created mosaics from the beads since 2007, expects more than 1 ton of used beads to be dropped off at his gallery, Galeria Alegria, in the next few months. Wanger recently completed the world's largest Mardi Gras bead mosaic, measuring 8 feet tall by 30 feet wide and containing more than 1 million recycled beads.
"It's very hard to have an intoxicated person and say, hey don't throw it away," says Wanger. What others trash, he sees as material for "an art form here that no one else can claim."
Taking the fun out of Mardi Gras would be nearly criminal, but behind the drunken parties lie sobering realities worth at least some thought. "The message isn't to stop having fun," says Redmon. "It's to have more fun, more pleasure, but not at the expense of other people's pain."