Is Japan's Global Creditor Status at Risk?
by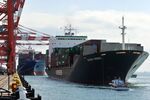 Japan's status as an export superpower has taken a pummeling lately. First came news last month that the country had posted a $32 billion trade deficit for all of 2011, the first time that's happened since 1980. Then, on Feb. 20, Tokyo announced a record shortfall for January of $18.5 billion, citing a strong yen that's depressing exports and rising prices for energy imports. Japan may well record another yearly trade deficit in 2012. Now economists are worried that the nation's current account could turn negative, raising questions about Japan's ability to handle its $10 trillion-plus government debt load. That burden is equivalent to about 220 percent of Japan's total annual economic output, the highest debt-to-gross domestic product ratio in the world. (That's right: Greece's debt level is a more manageable 164 percent of GDP.)
Bank of Japan Governor Masaaki Shirakawa and other top officials say the trade numbers reflect short-term factors such as last year's earthquake and tsunami in Northeast Japan that disrupted factory production and hit nuclear reactor capacity. The disaster hit exports and required Japan to import more oil and gas. The unusually strong yen and weaker demand from China also conspired to depress exports. Shirakawa thinks Japanese trade deficits "won't become a firmly established trend."
Economists are worried, however, about Japan's deteriorating terms of trade since 2000. The phrase refers to the ratio of export prices relative to import prices—a "kind of a profit margin for the national economy," as Jesper Koll, managing director and head of Japanese equity research at J.P. Morgan Securities, put it in a recent interview. Japan is caught in a squeeze: The big surge in energy demand from China and other developing economies has increased Japan's imported energy bill by 5.4 percent annually over the past decade, according to Koll. Meanwhile, the pricing power of Japanese car and chipmakers are getting squeezed by greater global competition, particularly from the Koreans, pushing overall export prices down 2.1 percent a year over the same period.
This slide in Japan's trade competitiveness is far more troublesome than fluctuations in the value of the yen. Unless things turn around soon, Japan is on track to make deeper deficits in its trade account. At some point, those deficits will eclipse the country's capital account—that is, the income and dividends earned by the Japanese factories and foreign investments. Then, Japan's entire current account will go into deficit, and the archipelago will join the illustrious ranks of debtor countries such as the U.S., Italy, France, and the U.K.. On current trends, Koll thinks that fateful day might come sometime in 2015.
Among the world's fiscally challenged countries, Japan's hasn't yet drawn huge attention from the credit rating companies or global bond vigilantes. Tokyo could always point to its healthy current account balance, which generated wealth for the country, and the vast household savings of its frugal citizenry. Japanese prime ministers stretching back two decades have promised to improve the country's fiscal picture but haven't delivered. Prime Minister Yoshihiko Noda, a fiscal hawk who took office last fall, is now struggling to win broad support for the proposal to double to 10 percent the nation's consumption tax. Yet now that Japan's export wealth machine is starting to sputter, it's hard to see such nonchalance lasting much longer .
Before it's here, it's on the Bloomberg Terminal.
LEARN MORE