How to Get a Permit for Your Driverless Car
By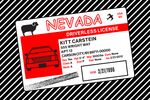 About a year ago, Bruce Breslow, the newly appointed director of Nevada's Department of Motor Vehicles, was invited to Mountain View, Calif., to test one of Google's driverless cars. "I sat in the back seat first, looking at the laptop that shows what the vehicle is seeing," he says. "My apprehension disappeared after about five seconds. Once I felt confident that the car could see better than I could, they allowed me to get behind the wheel."
Now Nevada has become the first state to allow driverless cars to apply for their own drivers' licenses. The rules, which go into effect March 1, will make it possible for companies such as Google (whose lobbyist arranged Breslow's trip) and Mercedes-Benz and maybe even General Motors to test their robot cars on Nevada's 26,000 miles of road. "There are two ways to bring amazing technology to market: to seek forgiveness and to seek permission," says Steve Jurvetson, managing director at Draper, Fisher & Jurvetson and another one of those who've been in Google's autonomous vehicles. "This gives Google and everyone else permission. And Nevada is the state to go to when you want to do things on the edge."
To his point: The Nevada legislature gave the DMV just nine months to come up with the requirements and put them into effect. Breslow expects at least one company, which he wouldn't name but which isn't hard to guess, to apply right away. The companies have to prove to the DMV that the cars have already driven 10,000 miles. That makes sense in terms of safety but also seems to favor Google, which has logged some 200,000 miles in California. Other than that, the cars have to do what every teenager applying for a learner's permit can. To operate on a state highway, the vehicle has to be able to manage a 75-mile-per-hour speed limit while looking out for cows. On the Las Vegas strip, it has to be able to avoid pedestrians, construction, and debris of all kinds.
Just to be sure, two trained drivers have to be in every car, one of them in the front seat prepared to take back control. And the DMV requires the cars to have a separate data recorder to collect information in case of a crash. "If the car is programmed properly, it shouldn't cause an accident," says Breslow. "But it's possible it could still get into one."
An application costs only $100, but companies have to put up a cash bond of anywhere from $1 million to $3 million, depending on how many cars they want to put on the road. There will be no "Student Driver" banner to let others know no one's behind the wheel. The big clue will be the license plate, which will be dark red. Instead of the Nevada sunset over a snow-covered mountain, the logo will be one Breslow designed himself.
Sometime in the future, which Breslow says could be as soon as three years from now, the cars could get full licenses. They would be green, a color that to Breslow indicates "the future is here." Those in the car would be allowed to text or talk on the phone, but if they're tipsy they still can't get behind the wheel. "If you're in the car, you need to be able to take over," says Breslow. "For now, it's a partnership between the person and the machine."
Before it's here, it's on the Bloomberg Terminal.
LEARN MORE