Dead Celebrities and the Profit Motive: An Ethics Primer
By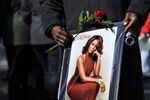 When a beloved pop diva like Whitney Houston dies, when is it fair game for a Sony or a Warner Bros. to protect their investments in her music and film catalogs? In cold business terms, the first year of a celebrity's death can be a sales bonanza if managed right. What's the wrong way? Well, Sony Music's decision to hike the prices of two Houston compilations—The Ultimate Collection and The Greatest Hits—on the U.K. iTunes site just hours after the singer died on Feb. 4 set off a firestorm on Twitter and Facebook. Sony quickly reversed course and issued an apology. On Feb. 21 an erroneous blog post reporting Warner Bros. had pulled Netflix's streaming rights to Houston's 1992 movie The Bodyguard in order to steer mourning fans to the more expensive DVD version also lit up the Web. (Warner Bros. is releasing a new Blu-ray version of the movie on March 27.) Turns out managing dead celebrities is a tricky business.
New York University professor Samuel Craig, deputy chair of the Stern School of Business's marketing department, says it is perfectly legitimate for entertainment companies to do everything possible to extend their catalogs' revenue stream. Such is the way of high-speed American capitalism. Rule No. 1, however, is never, ever price gouge. "You don't want to be viewed as taking advantage of a tragic situation," Craig says. Feedback is instantaneous these days, and "if you do make a misstep, then take action very quickly." Also, companies should refrain from really aggressive marketing tactics until "an appropriate mourning period" has passed. How long? Professor Craig pauses for a moment, chuckles nervously, and suggests six months. This is clearly a judgment call depending on the nature of the celebrity's demise, as well as fan reaction.
When the grieving is over, and it's time to release an illustrated life of John Lennon or commemorative Amy Winehouse guitar picks, Craig urges companies to stress why it's important that an artist's works should live on—other than, that is, to enrich an entertainment conglomerate's shareholders. He says fans can respond sympathetically to the needs of the deceased artist's estate, as in the case of Michael Jackson, whose financial difficulties were a matter of public record. Whitney Houston, one of the best-selling recording artists in history, admitted during an interview with Diane Sawyer on ABC that she had had a drug problem and had a home foreclosed upon by banks in 2006. Diehard Houston fans will find comfort in "the fact that a person shall live on in their work," according to Craig.
How long can a deceased talent stay relevant? Michael Jackson, who died in June 2009, may well be the gold standard on this front. Already one of the best-selling artists of all time, Jackson was the top-selling act of 2009 due to a surge in interest in the King of Pop's albums. That raised his career total to more than 750 million records sold worldwide. This Is It, the backstage look at Jackson's unrealized final tour, has been a runaway hit, helping his estate collect $310 million from music, merchandise sales, and its share of publication rights on Jackson's music catalog. The estate has slashed its huge debt burden and made investments in a Jackson-branded video game and Cirque du Soleil show.
Sony, Warner Bros., and the Houston estate can keep the pop diva's memory alive with some patience and common sense in the short term—and enlightened marketing in the long term.
Before it's here, it's on the Bloomberg Terminal.
LEARN MORE