No More Tweeting at the Steering Wheel
By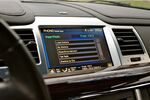 That's essentially what U.S. Department of  Transportation Secretary Ray LaHood told carmakers on Wednesday. As Bloomberg's Angela Greiling Keane reports, LaHood continued his campaign against distracted driving by issuing "non-binding" guidelines suggesting auto manufacturers build navigation and infotainment systems with features that turn off while a car's in gear. So you'd have to pull over and park if you wanted to use the car's mobile technology to text, make a call, or check the latest price of your Apple shares.
The guidelines are completely voluntary at this point. LaHood wants auto makers to weigh in with formal comments, suggesting he's open to meeting them halfway. That's a plus for a company such as Toyota, which was showing off Entune, its newish tech system that synchs with a smartphone, at the Detroit auto show last month. Entune apparently doesn't access certain apps, including Facebook, and the touch-screen turns off when the car goes into gear. But you can still use a voice-automated system or controls built into the steering wheel to access the Web.
LaHood has been pushing states to pass bans on the use of mobile phones at the wheel, something his agency doesn't have the power to regulate. By giving the auto companies a chance to comply with, even craft, the voluntary standards before making them mandatory (President Barack Obama's budget calls for more than $330 million for distracted driving programs), LaHood is playing it safe politically. Presumably he's trying to avoid a fight in an election year during which the "R-word" has become a loaded one.
Before it's here, it's on the Bloomberg Terminal.
LEARN MORE