Lin vs. Tebow: Whom Does God Love More?
John Lopez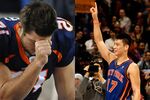 Between Jeremy Lin and Tim Tebow this year, it's clear God has decided to start the Rapture in the one venue likely to get the attention of most Americans: professional sports. But as any proud father will tell you, even though He loves both His children, He secretly likes one more. Who is God's true Chosen One? Tim Tebow or Jeremy Lin? Let's perform the judgment:
TIM TEBOW
The Evidence:
Early life. When Tebow was still in the womb, God was already looking out for him: After taking drugs to combat amoebic dysentery, which damaged the placenta, Tebow's mom was told an abortion was the only way to save her life. She declined, and the Florida Gators won two championships.
Outward professions of faith. Tebow takes the kind of prayerful knee in the end zone not seen since Orel Hershiser won the World Series, and he writes Bible verses into his eyeblack. But, as Saturday Night Live's "Jesus Tebow" sketch so artfully pointed out, no one likes a suck-up.
Practicing what he preaches. Not only is Tebow building hospitals in the Philippines, he's also showing Job-like steadfastness in refusing Katy Perry's dogged advances. The songstress, recently divorced from the Faustian comic Russell Brand, has recently dedicated a song to Tebow. But the Denver quarterback, an avowed virgin, is committed to saving himself for marriage.
Miraculous performance. With that six-game winning streak and all those fourth-quarter comebacks, despite his wobbly, errant spiral, someone has clearly anointed Tebow. And that Broncos playoff victory against the Steelers? He just happened to throw an OT touchdown the year they changed the rules for sudden death. C'mon!
JEREMY LIN
The Evidence:
Early life. Jeremy Lin somehow picked up basketball skills while growing up in Silicon Valley. Remember, this is the part of the country where the chess club has a bigger following than the basketball team. Instead of getting a job at Google right out of college, he became the "world's most googled" by playing hoops. That's a miracle in itself.
Outward professions of faith. His Twitter icon has Jesus saying, "No, I'm not talking about Twitter. I literally want you to follow me." And Lin claims to have thought about becoming a pastor if his NBA career had failed, which it almost did.
Miraculous performance. Not only did Lin help the Knicks beat the Lakers for the first time in five years, he also dominated Kobe with 38 points—in his fourth career start! Lin has already helped the Knicks to a season-high seven-game winning streak. And have you seen that last-minute, game-winning three against the Raptors?
JUDGMENT:
God just might love Jeremy Lin more. For one thing, the Gators faithful may have incurred the Lord's wrath by erecting a false idol to Tebow last year. What's more, Lin has come out of nowhere and made Knicks games watchable again. With the Giants topping the devilish Patriots in the Super Bowl, it's clear the Big Guy likes New York this year. At least until He smites its godless hedonism with the ultimate buzzer-beater in December 2012.
Before it's here, it's on the Bloomberg Terminal.
LEARN MORE