Is Capital Fleeing China?
by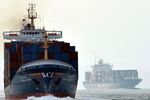 Money is leaking out of China. For the first time since the Asian financial crisis in 1998, China recorded a drop in its foreign exchange reserves—down from $3.2 trillion, to $3.18 trillion, in the fourth quarter of last year. The sorry state of world trade accounts for much of this, as does the lower value of reserves held in currencies other than the dollar. But something else is at work.
Lu Ting, an economist at Bank of America in Hong Kong, said in a recent report that $34 billion may have left China just in the third quarter, driven by worries about a hard landing for China's economy, as well as the ripple effects of Europe's crisis. The global downturn may spur capital withdrawals "of a large magnitude," China central bank governor Zhou Xiaochuan warned in January.
Money leaving China? For most of the last three decades, rapid capital inflows have been the norm, helping China build up the world's largest war chest of foreign reserves. Inflows of foreign capital improved early this year.
Unrest and Uncertainty Add Up
Yet there are many reasons to move money out of China. Chinese investors fear unrest at home, especially in a year of great political transition as the Politburo prepares to elevate Vice President Xi Jinping to the presidency. And what looks like a tough year ahead for global trade will hurt China's export factories and could lower expectations of further yuan appreciation, also driving money out. During a lunch meeting in Washington on Feb. 14, Xi said the international economic and financial situation "remains grim."
Meanwhile, worries about a downturn in China's property market—home prices fell in January for the fifth consecutive month, according to Soufun, China's largest real estate website—are encouraging investors, both foreign and local, to look beyond China's borders for new opportunities. "A number of factors would trigger 'hot' money FX outflows. Some are healthy, while some may be symptomatic of more worrying trends," wrote Standard Chartered's regional head of research for Greater China Stephen Green on Dec. 16.
How is the money getting out? There are legitimate channels, such as the common practice of international firms moving profits to another unit of the company in a country whose currency is appreciating. Chinese citizens, too, can legally carry up to 20,000 yuan when leaving China and can exchange the equivalent of up to $50,000 in yuan annually.
"Ultra-Heat-Treated" Money
But there is also what Green refers to as "tropical" or "ultra-heat-treated" money, by which illegal means are used to circumvent China's still-tight controls on currency convertibility. Those include measures that range from falsifying trade invoices or exaggerating how much investment will go into a new project in order to facilitate cash flow in or out of China. It also includes utilizing Macau, through which as much as $185 billion of mainland money flowed last year, estimates Green. So-called junket companies that operate VIP rooms in casinos of the former Portuguese colony allow their primarily mainland customers to gamble on credit, with winnings convertible into one's currency of choice, according to Green.
Northwestern University political scientist Victor Shih estimates that China's richest one percent, or 2 million households, have from $2 trillion to $5 trillion in liquid and real estate assets. While there is no indication that this very large sum will soon be moved offshore (China still provides higher returns for many businesses than other countries do), a future conversion of even part of it could significantly reduce China's still-massive reserves and damage confidence in the economy. That could happen fast if China's wealthy were to decide their fortunes were at risk on the mainland. Macau and Hong Kong are both ready conduits for any future capital flight, says Shih. "And the fact that China conducts so much trade—with trillions of dollars going through China in exports and imports—to the extent you can fake invoices, you can get a huge amount out quickly and easily," he says.
Before it's here, it's on the Bloomberg Terminal.
LEARN MORE