A LinkedIn Master Class From BuzzMedia's Tyler Goldman
Roger Bennett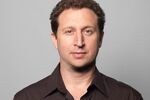 According to Tyler Goldman, you're not making the best of LinkedIn. The social network for working professionals may claim over 150 million users, but few are as dedicated as Goldman. By day, the 45-year-old Los Angeleno is founder and chief executive of BuzzMedia, the largest digital publisher of pop culture content in the U.S., overseeing a slew of gossipy websites such as Buzznet, Celebuzz, Go Fug Yourself, and KimKardashian.com (the reality TV star's official website). By night, Goldman invests his energy in an unusual pastime: building a LinkedIn profile so voluminous and so detailed—listing more than 200 interests—it has become a cult phenomenon among digital cognoscenti.
Goldman's rambling résumé (beginning with an internship at NASA's Ames Research Center) extends well beyond his professional achievements, revealing niche interests in toilet plumbing and salad-bar design, a publication called "Reducing water use in washrooms: urinals," and active membership in dozens of LinkedIn groups ranging from Towing & Recovery Professionals to Portable Toilets, Honey Buckets & Sanisettes.
Bloomberg Businessweek dragged Goldman away from his computer terminal for a moment to talk about his obsession with the network, the ways in which it's better than Facebook, and how his involvement with the so-called Meat Innovation group informed the way he approached the Kardashian brand. Oh, and if you're reading this, LinkedIn co-founder Reid Hoffman, could you please accept Goldman's LinkedIn invite? He's been waiting.
How did your fascination with LinkedIn begin?
My wife asks me [the] same question every day. I was an early Facebook user, but I never found it interesting. Facebook is simply not conducive to business conversations. You can't wedge them in between photos of your kids with ice cream running down their faces during a trip to Disneyland, or communicate complex thoughts with a "thumbs up." I discovered LinkedIn in 2009 and quickly realized that the people it was recommending me to connect to were far more interesting than the friends of friends generated by Facebook who just wanted me to join them on Farmville. I soon found myself updating [my LinkedIn profile] up to two hours a day and spending $2,000 of my own money every month on targeted ad campaigns [for personal projects].
What role does LinkedIn play in your life?
Ninety-seven percent of people use LinkedIn purely as a static reference or recruiting tool, but there is so much more that it can enable users to explore. I became fascinated by the group functionality and crowdsourcing.
I started by becoming immensely active in an Eagle Scouts group, immersing myself in the discussion threads and adding news. I had never been an Eagle Scout myself, but I wanted to see how LinkedIn could leverage the potential and passion of their audiences, so I stimulated a conversation about the lack of transparency in the award of merit badges. The Scouts ignored all of my suggestions about improving their badge-nominating process, but their nuanced discussion made me realize what a platform the site could be for passion and interests, and I wanted to see how deep I could go.
How did you relate your exploration back to your professional life?
Once I was started there was no stopping me. I joined a lot of groups—Royal Air Force Alumni, the women's sorority Delta Gamma, and Crane[s] and Hoist[s] Professionals. My company, BuzzMedia, is built on an ability to go deep on pop culture. I wanted to see how deep I could go on topics that never make the front page of the New York Times but that I believed a lot of people felt passionate about—air conditioning units or Econo Lodge Platinum Club membership. Where else can I learn about all of them and liquefied petroleum tankers? On LinkedIn there are a lot of people who take that very seriously.
What are the most overlooked attributes of LinkedIn?
Crowdsourcing and targeting. I spend a lot of time on the site asking questions because I believe crowdsourcing works when you start with a huge pool of candidates, which LinkedIn has. I witnessed that through my participation in a Meat Innovation group when I nominated a legendary Texan cattle rancher for the Meat [Industry] Hall of Fame. A wild, wide-ranging debate resulted, which made me realize that successful crowdsourcing occurs when you engage multiple layers of perspective and expertise in a single context. In a funny way, the techniques I honed on meat innovation informed my work with Kim Kardashian.
If you were hired to run LinkedIn, what three things would you immediately change?
First, more app providers should be invited into LinkedIn. There are more than 1.5 million apps on Facebook and about 10 on LinkedIn—and access to those is limited. LinkedIn has so many possibilities to explore, they need to let in third-party software developers.
Second, the site needs more publishing tools for those who are content creators. If I write about meat products, I should be able to publish on LinkedIn, which should be a much bigger player on business topics than the New York Times, TechCrunch, or a blog about meat innovation.
Third, LinkedIn would benefit by offering a better answers product to bring in more content and context. I would buy the information-sharing product Quora immediately.
Less than 0.5 percent of LinkedIn's users are probably superusers like me—but I predict that will grow to 15 percent within the next five years.
Will there be a day when you will feel your work is done?
I am always trying to find new things to do on LinkedIn. I recently moved into patents, after posting a concept for a reusable urinal splash guard that can be cleaned through a traditional dishwasher in the home. It turns out a lot of people want to join and co-own my patents. If the urinal guard ever comes to market, we will [be] making a claim on that one.
How does your wife view your relationship with LinkedIn?
Concerning … ?
How do you view it?
My goal is to have the most interesting LinkedIn profile out of [150] million other users. Is that a bad goal? My parents always said to strive for No. 1. Or else I would settle for [LinkedIn co-founder] Reid Hoffman finally accepting my LinkedIn invite. I am his most active user, but he has continuously declined.
Before it's here, it's on the Bloomberg Terminal.
LEARN MORE