The Story Behind the Olympus Scandal
The company's ex-president and CEO dared to ask questions about what looked like fraudulent accounting—and paid dearly for it
Karl Taro Greenfeld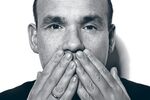 The constable behind the counter at the Belgravia Police Station in central London raised his eyebrows in bemusement at the well-spoken middle-aged Englishman, wearing a suit and tie and overcoat, standing before him on a mid-October afternoon. The gentleman had short, receding black hair, close-set eyes, and a generous round chin. He mumbled darkly about Japanese organized crime—the Yakuza—and a corporate scandal he had uncovered in Tokyo. He claimed he had been the president and chief executive officer of a global corporation, had discovered that a fortune had gone missing, and then had been fired. He now had reason to believe, based on what he'd heard from journalists and fellow businessmen, that he might be killed.
The constable nodded, tried not to smile, and thought: This gent may be the biggest nutter we see all day. Most of those who showed up on the other side of the Plexiglas in the public room of the station and claimed to be targets of murder plots tended to be either deranged or exaggerating a petty money squabble. Still, the Metropolitan Police officers are trained to take seriously all such claims, and so the gentleman was shown into a private interview room, an 8-by-6-foot chamber with a desk and two chairs. He sat down across from the constable.
"Just Google my name," the man insisted, "Michael Woodford. W-o-o-d-f-o-r-d."
The constable excused himself and went to a computer where he typed in the name. What Google returned—approximately 6 million hits—was enough to prompt the officer to ask for ID. When Woodford produced it, the constable asked him to repeat his story to the duty officer, the ranking cop at the station.
Woodford, 51, recounted how he had just returned from Hong Kong, having fled Tokyo after a board meeting in which Olympus Chairman Tsuyoshi Kikukawa had fired him. The cause for dismissal, according to Woodford: his insistence that Olympus officials come clean about a series of questionable purchases dating to 2006, totaling $1.6 billion, none of which had been adequately reported in the company's consolidated financial statements. The deals had been approved by Kikukawa and the Olympus board, yet in several cases the parties receiving the sums were not even clearly identified in Olympus's books. (At least one Japanese magazine had strongly hinted that the Yakuza were beneficiaries of some of these shady deals.) Woodford, frustrated by the board's stonewalling, had hired the accounting firm PricewaterhouseCoopers to conduct an independent audit of the suspicious transactions. For several weeks leading up to his dismissal, he had been calling the board to account for these transactions, and eventually demanded the board's resignation. Instead, Woodford was purged. And now he was running for his life.
After listening to Woodford's appeals, the Metropolitan Police offered to put him and his family under police protection. He has remained mainly in the U.K. since then, returning to Japan once to attend an Olympus board meeting. Woodford agreed to an interview on Feb. 6 at his luxurious apartment in London, south of the Thames. He was about to leave for the U.S. to sign a deal to write a book about his ordeal, which is scheduled to be published this fall.
When I visited, Woodford and his wife, Nuncy Somavilla, were preparing the book proposal and poring over legal documents pertaining to his lawsuit against his former employer. He's seeking his salary for the four years remaining in his contract. Over the course of six hours he shared his version of what transpired at Olympus. Woodford rarely pauses when he speaks, and because he has been working on a book about his life his memories and recollections are organized and clear. It is only when he talks about his recent experiences in the boardrooms of Olympus that he struggles to find the right words.
"Do you know how extraordinary it is to sack a [company] president in Japan?" Woodford says. "Do you know? Unless you commit some terrible crime, it just doesn't happen. What were they doing in there? What were they scared of?"
 
 
Michael Woodford had been the first foreign chief executive officer of a Nikkei-listed company to have worked his way up entirely through the ranks of that company. He started as a salesman more than 30 years ago and took over Olympus, a $10 billion company and a leading maker of surgical equipment and cameras, in April 2011. Woodford's reaction to the corporate malfeasance and corruption he discovered once he reached the top is even more noteworthy, though perhaps not surprising. Throughout his life he had demonstrated a willingness to speak out against what he perceived as treachery, even when it could result in financial harm or personal danger.
Woodford grew up in Liverpool, in the working-class neighborhood of Wavertree. After his parents divorced, he and his two sisters lived with his mother and grandparents. Their house had no indoor plumbing; the family shared an outhouse in the backyard and bathed once a week in the rusty tubs at the local swimming pool. At school, Woodford was painfully aware of his family's circumstances. "Everyone knows who gets free dinner, free milk, and whose blazer isn't shiny and new," he recalls.
Even as a youth, Woodford showed precocious initiative in his future calling: sales. He would collect old newspapers and clip the coupons, redeeming hundreds at a time with a local grocer who would give him the value in goods, which he would sell to his parents' friends. At King David High School, a predominantly Jewish institution that was required to take in a certain percentage of gentiles to qualify for government funding, he sold snacks for a profit out of his locker. "I was getting in trouble because I was selling smoky-bacon-flavored crisps to supposedly kosher boys," he says. "I pointed out that there was no actual pork in the crisps. It was all chemicals."
At 16, Woodford left school and found a job as a management trainee at Lucas Aerospace International in Liverpool, where he blew his first whistle, exposing a secretary who had used the company postage machine to send out her personal Christmas cards. He confronted the woman and accused her of cheating the company. He was removed from that department after making the accusation, which proved to be true. "It's in my makeup." Woodford says. "It's what I do when I think something is terribly, terribly wrong. Even as a boy, I was like that."
Woodford went on to a sales job in London with Cadbury Schweppes, the confection and beverage giant, where he took over a territory in southeast London. In 1980 he jumped to KeyMed, a British maker of industrial products then partially owned by Olympus, whose surgical and medical products KeyMed also distributed. Within weeks he was traveling the country selling $40,000 surgical endoscopes to surgeons and specialists. "My first introduction to Olympus was its products. If you look at a surgical gastroscope, this is a beautiful piece of technology, wonderfully made. It was like Google or an iPhone, just a seminal product." And he couldn't help but notice the fantastic profit margins: Those $40,000 endoscopes cost a couple thousand dollars to make, and Olympus controlled 70 percent of the multibillion-dollar market.
Woodford also noticed that Olympus's other products, including surgical lenses and rigid endoscopes, were not selling. Woodford convinced his bosses that they needed to establish a separate sales unit for the rest of Olympus's surgical products. That team, with Woodford as sales manager, would soon make KeyMed the largest supplier of surgical equipment in England. Olympus bought the remaining stake in KeyMed and named Woodford, who had helped drive profits at KeyMed from $3 million to $80 million, managing director. "I do the small things very well," he says. "I'm not Machiavellian or manipulative about sales. If you visited KeyMed, you were greeted by staff who always smiled at you, who welcomed you. We would check the toilets every 15 minutes for cleanliness. We monitored how long it took to answer the phone. If a KeyMed salesman saw a doctor on a Tuesday, the [follow-up] letter would be processed overnight so he would have it Wednesday morning. The difference between us and our competitors was a thousand little things."
In 1987, Woodford married Somavilla, a native of Spain whom he had met in London. They have two children. He seemed to have it all—the perfect family and a burgeoning career. "Michael was always rigorously honest, loyal," says Albert Reddihough, founder and managing director of KeyMed. "He got where he is through strength of character."
By the early '90s, KeyMed was the most profitable piece of the Olympus empire, and Woodford had been identified by senior management in Tokyo as a rising star. He had met Kikukawa, a senior corporate officer at Olympus's more famous but less profitable camera division, at several company events. He found the slender, bespectacled executive to be charming and attentive, nattily dressed in blue pinstriped suits and fancy ties. (Kikukawa spoke excellent English; Woodford never learned Japanese.) Kikukawa presided over the 1990s resurgence of Olympus in digital cameras, a business with annual revenue of more than $1 billion. When Kikukawa became president and CEO of Olympus in 2001, he made Woodford the head of Olympus's medical businesses outside Asia, eventually naming him executive managing director and chairman of the board of Olympus Europe Holding, which oversaw Olympus's businesses in Europe, Africa, Russia, and the Middle East, as well as KeyMed. Altogether, that represented more than 40 percent of Olympus's global revenue.
The impression Kikukawa made on Woodford was that he, like Woodford, cared deeply about the company. "When we would meet in Tokyo, we always agreed about what needed to happen, which managers and which divisions weren't performing," Woodford says. "He recognized me, and he promoted me. But he didn't understand the medical business. He had come up from the camera business. He knew that he needed free cash, and I was the one who could do that."
 
 
By the start of this decade, Olympus was in trouble. The surgical equipment businesses that Woodford presided over were still performing spectacularly, having held steady at about $3.9 billion a year in sales from 2008 to 2010, generating more than $800 million a year in profit. The problem was the camera business. Smartphones eroded the company's once-dominant point-and-shoot digital camera business, and lackluster marketing failed to get its genuinely innovative engineering noticed by consumers. Net sales in the company's Micro-Imaging Systems unit, which included cameras, fell from $3.3 billion in 2008 to $1.9 billion in 2010, generating operating income of just $37 million. The company's total operating income declined from about $1 billion in 2008 to about $600 million in 2010.
Partly to offset some of these declines, Olympus embarked on an acquisition spree, purchasing an English medical equipment maker, Gyrus ACMI, that Woodford dismissed as a $2 billion "vanity purchase that we had paid over the odds for." More curiously, Olympus bought several noncore businesses, including a mail-order face cream business and a company that made microwave cookware. Woodford confronted Kikukawa, and he agreed that it shouldn't happen again and that Olympus was a medical equipment business, first and foremost.
In April 2011, Woodford became Olympus's president and chief operating officer. Kikukawa summoned Woodford to Olympus headquarters, at the Shinjuku Monolith building in Tokyo, to offer him the job. Woodford remembers that the chairman said, "I haven't been able to change the company in the way it needs to be changed. I think you can." Woodford said he gazed out the 15th-story window at the twin-spired Tokyo City Hall building and the Keio Plaza Hotel Tokyo for a moment and said yes. "I didn't even think about it."
Woodford had learned from his years in a Japanese company that you don't talk about salary. "It's all done on word and trust. You know they will take care of you." Olympus did that, paying Woodford almost $8 million a year in salary and bonus. After becoming president, Woodford installed teams in the U.S. and Europe and sought to reduce expenses in Japan. He clashed with Kikukawa and the board regarding hiring policies, vowing to take on only engineers rather than the marketing and finance people Woodford believed were overrepresented at Olympus. "I felt like we were really getting the company on the right track," he says. "We had key people in the right places and had cleared out some of the problems."
He soon discovered how grave Olympus's real problems were.
 
 
On a sweltering day in Hamburg last July, Woodford presided over a board meeting of Olympus Europe—he was still chairman of that board—and returned to his hotel room. He opened his laptop to find a half dozen e-mails forwarding a translated story from an obscure Japanese business magazine, Facta, that detailed questionable fees paid by Olympus in the Gyrus acquisition as well as the almost $800 million paid for three companies, including the mail-order face cream and the microwave cookery businesses. The story pointed out that two of the businesses had combined sales of less than $2 million; within a year of the purchases, their equity had been almost entirely written off as a loss. The Gyrus deal was described as equally suspicious. Not only was the $2 billion price exorbitantly high, but there was also an additional $687 million in Gyrus preferred stock purchased by Olympus from an undisclosed third party. That $687 million would later be described as an advisory fee paid to a shadowy Cayman Islands company, making it the largest advisory fee in history.
Woodford hadn't known any of the details of these transactions. "I thought this was something that needed to be looked into. It didn't register as a massive fraud. If I had any suspicions, it was that it had to do with incompetence." He returned to Tokyo the next week for a Friday board meeting. He assumed the allegations in the Facta report would be the matter at hand, but the article never came up. Woodford found that odd, but second-guessed himself. Maybe I've got the wrong end of the stick here. Perhaps this is nothing.
A weekend retreat in the Hakone hot springs region with a fellow director of a major Japanese corporation disabused him of that notion. The traditional Japanese routine of dining and then soaking in rejuvenating baths became instead a warning from his fellow executive that the issues were very serious. The magazine's sources were credible, and Woodford needed to be careful. "We were up until the birds were chirping, talking about what's wrong with the company and what I might do."
When Woodford returned to the offices that Monday, he showed the magazine to two trusted colleagues at Olympus, both of whom said they had seen the article and had been told by Kikukawa not to mention it to Woodford.
Finally, at a Tuesday lunch meeting with Kikukawa and Group President Hisashi Mori—where Woodford noticed that while the two Japanese men had sumptuous plates of sushi before them, he was served a tuna sandwich—Woodford said the allegations were serious and asked: How was it possible that as the "president of the company, traveling the world, meeting with shareholders, that I could not be aware of this?"
Kikukawa's neck muscles bulged, Woodford recalls. "I gave instructions that you should not be told," he said. "You're the president, yes, but this is a domestic issue."
"But is it true?" Woodford asked.
"Some parts," Kikukawa said.
"I need to understand." Woodford insisted. "I'm the one who signs the letters of representation with the auditors."
A meeting later in the day with Mori, at which Woodford was supposed to be briefed about the transactions, confused rather than clarified the issues.
Woodford asked Mori about the Gyrus transaction. "What about this $687 million?"
"That was to buy the A Preference shares." Mori said.
"What do you mean? Buy them from whom?" Woodford asked. He pointed out that the $2 billion paid to Gyrus shareholders had been to purchase the entire company.
Mori went into a long and convoluted explanation, saying that Olympus, to fulfill various contracts, had arranged to give another outfit, the Cayman Islands company, some shares with certain financial considerations. "So it's all part of the same consideration."
"I don't understand," Woodford said. "What does that actually mean?"
Mori refused to elaborate.
Woodford switched over to other questionable transactions, the face cream and cookery businesses. "We paid $800 million? Come on, Mori-san? Mail-order face cream company? And microwave plates? What's that? How did we value those—$800 million?"
Mori claimed there had been many interested parties.
"But microwave plates? What does that have to do with health care?"
Mori, with a straight face, said, "Well, it helps people with diabetes."
Woodford exploded. "I'm the president of this company trying to understand $1.5 billion in transactions. Our profits last year were around $350 million. This is four to five years' profit spent. Do you understand the magnitude of this?"
Mori was silent.
"Who do you work for, Mori-san?" Woodford asked. "Who do you work for?"
He expected Mori to say Olympus. Instead, he said, "I work for Mr. Kikukawa. I am loyal to Mr. Kikukawa."
That's when Woodford knew that, as he said, "something was terribly, terribly wrong here."
 
 
A few days later a second Facta article on Olympus appeared. Based on information from sources inside the company, it speculated that "antisocial forces"—Japanese media-speak for the Yakuza—were among the beneficiaries of the questionable transactions. Beginning on Sept. 23, Woodford, then in England, sent letters to members of the Olympus board questioning the transactions and demanding explanations, especially for the "excess of $600 million issued to unnamed recipients in the Cayman Islands. … It is inexplicable to me why Olympus would make a payment of this magnitude." He sent copies of the letters to senior executives at Ernst & Young, Olympus's outside auditors. "I did that so this could never get put back into the box." He also began telling the board that the only way for Olympus to survive was to come clean about the transactions and promote him to CEO.
At a meeting with Kikukawa and Mori in Tokyo, he was told the Japanese board would never approve of his becoming CEO.
"Fine. Then I'll resign," Woodford said.
That night, just before dinner, Kikukawa came to Woodford's office and told him he would step down and make Woodford CEO. Kikukawa further agreed not to go to any weekly management meetings and to allow Woodford to nominate his own board.
When Kikukawa made those suggestions to the board at an emergency meeting the next day, several members resisted. Masataka Suzuki, group president for Asia and Oceania, said Woodford had never been supportive of the Gyrus acquisition and couldn't be objective about it. Another board member accused him of refusing to attend board meetings, and yet another, independent director Hiroshi Kuruma, asked why he had sent his letters to Ernst & Young.
The questions, Woodford knew, were intended to be a slap in the face. He concluded that the board would act as one and would not make serious changes to the company. They still believed they could withstand the scandal. (Woodford noted that they announced his promotion to CEO on the English language website, but not on the Japanese site.)
On the plane to Paris that night, Woodford, now president and CEO, knew what he had to do. The following Monday morning he commissioned an independent auditor, PricewaterhouseCoopers, to conduct an investigation and analysis of the transactions. The auditors produced a damning report, which Woodford shared with the board on Thursday, Oct. 13. "That's what frightened the heck out of them. You had this big, prestigious firm saying these payments needed to be investigated."
Woodford sent a letter to Kikukawa accompanying the report, stating that "the honorable way forward would be for you and Mori-san to face the consequences of what has taken place, which is a shameful saga by any stretch of the imagination. It is clear that the current situation is now untenable and to move forward positively the necessary course of action is for you both to tender your resignations from the Board."
The board met the next morning, Friday, Oct. 14. Kikukawa took to the podium and read a prepared statement. "The board meeting scheduled to discuss concerns relating to the company's M&A activity is canceled. Instead, we have a new agenda. The first is to discuss the motion to dismiss Mr. Woodford as president, representative director, and CEO. Mr. Woodford cannot speak because he is an interested party. All those in favor?" (Board meetings at Olympus were simultaneously translated from Japanese to English and vice versa.)
All 12 board members present immediately raised their hands.
A second motion was put forward to strip Woodford of his officerships of Olympus America and Europe. Again there was a unanimous vote. Olympus declined to comment on Woodford's account of the Oct. 14 board meeting, and none of the executives were made available for this article. "We have said that the reason for the dismissal was because his management style caused a significant divergence between him and other executives," says Yoshiaki Yamada, a spokesman for Olympus. "That's still the reason for the dismissal, and we have nothing further to comment on Mr. Woodford." (Woodford remains on the board; only shareholders can vote him off.)
Shortly after the meeting, one of the board members, Hironobu Kawamata, executive officer and chief director at Olympus, entered Woodford's office to request that he surrender his cell phones and computers.
Woodford had already scrubbed his Japanese mobile—he wanted to keep the board members from identifying his allies within Olympus—and had taken the precaution of sending his own computers back to London. As for his iPhone, he wasn't giving that up.
Woodford stood up, walked around his desk, and for the first time in his career felt that perhaps this was worth coming to blows over. He held out his iPhone. "Are you going to try to take this from me? Are you?" His other fist was clenched.
Kawamata backed off before informing him that he had to turn in his company credit cards, and he no longer had access to his apartment or the company car.
"You may take the bus to the airport," Kawamata told Woodford.
Woodford walked out, took the elevator to the first floor, hailed a taxi, went back to his apartment, and quickly packed. He went to an ice cream parlor with 360-degree visibility, where he felt he would be safe. If the board was this desperate to get rid of him, then who knew who else in Japan, potentially rougher elements, might want to dispose of him? He called a reporter at the Financial Times.
He met with the reporter, then took a taxi to Haneda Airport, where he phoned his sister in Australia and told her to call his wife in London to tell her he had been fired.
Woodford knew he had to leave Japan. Sankei, one of Japan's largest and most reputable newspapers, was also reporting that the missing Olympus funds were linked to Japanese organized crime. Additionally, Jake Adelstein, author of the book Tokyo Vice and the underworld reporter for Yomiuri, another major Japanese newspaper, told Woodford that he had heard Woodford's life was in danger. "We didn't know where this money had gone, or why they were so desperate to cover it up," Woodford said. "How a corporation like Olympus got into this position is a great tragedy."
 
 
Over dinner at a hotel in London, Woodford jokes when there is a glitch in the service. "Don't they know that I used to be somebody?" He worries that he has become unemployable, retired at age 51, "and I still have the lawyers to pay." He still becomes emotional when he recounts the events of late last year. "I thought Japan was an honest society where the rule of law applied, where the truth would come out. I thought my Olympus colleagues would ultimately want what was best for the company."
By the time Woodford returned to London last October, his colleagues had no choice but to do the right thing. The British and American press were aggressively covering the scandal, forcing Kikukawa to resign two weeks later, on Oct. 26. At his resignation, Kikukawa continued to accuse Woodford of being "autocratic" while insisting that his record at Olympus was clean.
An investigation conducted by Olympus and released on Dec. 6 described the transactions as an attempt to hide investment losses going back decades. The massive overpayment for assets and lavish fees, totaling at least $1.6 billion, were, in other words, a fraudulent attempt to cover up previous bad investments by a series of Olympus presidents, dating to the bubble economy of the 1980s. What is remarkable is how the investigation would echo Woodford's assertions about the board, going so far as to conclude that "the core of [Olympus] management was rotten and those around them were also contaminated. … Shifting losses off the books and trying to cover them up over a long period of time is the behavior of those who do not understand compliance."
The report cited Woodford as proof that any corporate officer who objected to the scheme would be terminated.
On Dec. 11, Japanese prosecutors raided Kikukawa's home as well as Olympus headquarters. A month later, Olympus sued 19 current and former executives, including Kikukawa and a dozen board members, seeking tens of millions of dollars in damages. Also in January, the Tokyo Stock Exchange fined the company 10 million yen ($1.27 million) for "falsifying financial records to conceal losses."
Woodford does not know who the third-party beneficiaries may have been from those transactions, and he hopes ongoing investigations by the FBI, the Tokyo Metropolitan Police, and the U.K.'s Serious Fraud Office will determine where the money went. "We still don't know what they were actually doing," Woodford says. "There has never been any explanation that makes sense."
On Feb. 13, Olympus announced that it had lost almost $10 million in the fiscal third quarter, losses it blamed on the accounting scandal. Three days later Tokyo prosecutors arrested Kikukawa, Mori, former auditor Hideo Yamada, and four others. Shareholders will elect a new board on Apr. 20; most of the current board members will not be eligible for reelection. Several foreign shareholders have urged Woodford to return to lead a proxy battle for Olympus and resume his role as CEO.
He declined. "I was ready to run a health-care and consumer electronics company," he says. "I had no idea I was walking into a John Grisham novel."
Before it's here, it's on the Bloomberg Terminal.
LEARN MORE