The Defender of Private Equity Tax Breaks
Steve Judge pushes Congress to keep low taxes for private equity
By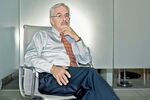 Steve Judge might as well have a "kick me" sign pinned to the backside of his nicely tailored trousers. In January, the veteran Washington lobbyist was named president and chief executive officer of the Private Equity Growth Capital Council in Washington, which is a fancy way of saying he's the head cheerleader for some of the nation's richest—and, at the moment, least popular—people. Sure, the pay is good: about $1 million a year. But here's his job: protecting the 15 percent tax rate for private equity managers at Blackstone Group, KKR, and the Carlyle Group, among others, while many average Americans are taxed at a much higher rate on their income.
Judge says he knew when he took the position that if Mitt Romney became the Republican nominee, the Obama campaign would attack his long career running Bain Capital and the tax benefits that helped fortify his remarkable investment gains. He just hadn't planned on Romney's fellow Republicans beating the President to the punch in the primaries, accusing Romney of looting companies, relishing firing people, and being a vulture capitalist. "We were confident that the private equity business model was going to be an issue in the campaign," says Judge, who is known for choosing his words carefully. "I don't think anybody expected that it would be an issue in January."
Obama's 2013 budget would eliminate the tax break, which treats private equity managers' so-called carried interest earnings as capital gains rather than higher-taxed income. And Democratic Representative Sander Levin of Michigan introduced—for the third time—a bill that would raise the rate. Judge's task is to keep that from happening. The group has set up a PAC to contribute to congressional campaigns and is trying to draw attention away from Wall Street to highlight small businesses owned by private equity firms. "We're an industry that has historically not paid attention to Washington and … that is something we indeed need to do," says Peter Rose, senior managing director at Blackstone. "Private equity is under unprecedented assault."
This isn't the first time it's found itself in need of a makeover. In the 1980s private equity deals were called leveraged buyouts and dealmakers were vilified as corporate raiders. The hostile takeover of RJR Nabisco, immortalized in the 1990 book Barbarians at the Gate, came to symbolize Wall Street greed. Rebranded as private equity, firms such as Bain did a lot to shed the Gordon Gekko taint with success stories including Staples and Domino's Pizza. They cast themselves not as raiders but as turnaround experts who rescued failing businesses and created jobs.
Now the industry is looking for another chance to make a first impression. Judge—a friendly, low-key former Democratic Hill staffer who was already the private equity group's in-house lobbyist—spends his days pitching anyone who'll listen on the virtues of private equity. He points to the $150 billion the group says firms invested in U.S. companies last year and notes that public pension funds and university endowments are among major stakeholders in their funds. "Private equity has changed a lot over the last 30 years," he says. Proving his bosses aren't all bad is the easy part. To earn his big salary, he'll have to convince election-minded members of Congress that preserving tax breaks for the industry's billionaires is a priority. If he can pull that off, Judge can claim to be a turnaround specialist himself.
BOTTOM LINE -
The bottom line: Private equity executives have started a PAC and a PR campaign to win friends on Capitol Hill and improve their image with the public.
Before it's here, it's on the Bloomberg Terminal.
LEARN MORE