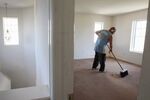 Most of the $25 billion that 49 attorneys general wrestled from five major banks in last week's foreclosure settlement will go to borrowers over the next three years. Meanwhile, several of the states getting immediate payout—the 49 states will collect $2.5 billion in all—are already announcing ways they'll spend some of their funds that seem likely to raise questions among housing advocates.
According to a story by Bloomberg's Mark Niquette and Tim Jones, Wisconsin is planning to set aside $25.6 million for an anticipated deficit, Missouri will use $40 million cover shortfalls in state education spending, and Ohio is going to put $75 million into demolishing run-down homes–all interesting interpretations of the requirement that payments "help fund consumer protection and state foreclosure protection efforts."
Before it's here, it's on the Bloomberg Terminal.
LEARN MORE