Silicon Valley Sets Up Shop in New York
West Coast tech companies are building up their operations
by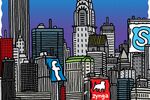 Start spreadin' the news: Silicon Valley is invading New York. In the past year, Facebook, Twitter, Skype, game maker Zynga, and other technology players have opened offices in New York City, hiring software coders and product designers in addition to the marketing and salespeople many already had in the city. "We're going to make sure we get the best talent we can as aggressively as we can," says Serkan Piantino, who oversees Facebook's half-dozen engineers in New York. In January they moved into a 17th-floor office near Grand Central Terminal, the company's first engineering outpost on the East Coast.
New York has a strong community of homegrown tech outfits, from luxury e-commerce site Gilt Groupe to location-sharing app Foursquare. Entrepreneurs and investors say the influx of big-name companies will give that local tech community a big boost. "The talent pool will increase, there will be more startups, and the tech industry in NYC will grow and develop," says Fred Wilson of Union Square Ventures in New York. Fewer recent grads "will make a beeline to Silicon Valley."
Online job board Dice.com on Feb. 1 listed 8,862 info-tech openings in New York, up 5 percent from a year earlier. That compares with a 12 percent jump, to 5,366, in the San Francisco Bay Area. Wall Street's woes have meant banks are hiring fewer engineers. But among tech companies "you have a lot more demand for" software talent in New York, says Nick Beim, general partner at Matrix Partners and head of the venture capital firm's two-year-old office in the city. The new entrants will likely "make the landscape more competitive," says Paul Flaharty of recruiter Robert Half International in New York. "Our best candidates are receiving offers on top of offers."
Facebook says it plans to build a core engineering team of 15 to 20 people in New York, then use their contacts to cast a broader net. Twitter's new digs, on the same block as Facebook's, house about 30 employees, and the company expects to double that this year. In 2011 Zynga bought Area/Code, a Manhattan-based gaming startup. This year the company plans to add to the 55 engineers, salespeople, and other workers it now has in New York. Skype has started concentrating much of its mobile development effort in its office in the Flatiron District, with about 25 techies on staff now and more of them expected this year.
Google, which opened its New York office in 2000 and now employs 2,700 salespeople and engineers in the city, has become a fertile source of tech workers for local startups and newcomers. After software programmer Dennis Crowley left Google in 2007 to found Foursquare, he began hiring away fellow coders from his former employer. "We've been lucky in how quickly we have been able to grow with talented people," says Crowley, who has expanded Foursquare to more than 100 workers.
Piantino, who joined Facebook in 2007 and has helped lead high-profile projects such as Timeline, has chatted up potential recruits at local events such as a September talk by angel investor Paul Graham. After mingling in the crowd of nearly 800 at the Metropolitan Pavilion, Piantino came away believing Facebook could win the hearts and minds of the local tech community. "They don't see us as competition," he says. "They see it as a validation of New York."
Before it's here, it's on the Bloomberg Terminal.
LEARN MORE