pursuits
Searching for America's Forgotten Jobless
Some 6.6 million are long-term jobless or too discouraged to look
By and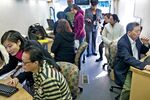 On a Tuesday mid-morning, five people stand next to a white Winnebago parked at the New Bethel Baptist Church in northwest Washington, D.C., waiting for the doors to open. Inside, there are 10 Dell computer consoles with Internet hookups, wood paneling, and bungee cords to keep the office chairs from rolling around as the vehicle moves.
The city-owned Winnebago is known as the Mobile One-Stop Career Center. Since September it has parked itself in front of dozens of churches, recreation centers, and libraries throughout the city's eight wards, looking for jobless people and promising help. "The most surprising thing is the length of time people have been out of work," says Hugh Bailey, head of satellite operations for Washington's Employment Services Dept., whose workers operate the mobile jobs center. "We ask, 'How long have you been out of work?' and may hear three, four, or five years." Teresa Johnson, 56, hasn't had a full-time job since April 2005, when she was earning $5.25 an hour as an administrative assistant and secretarial trainee. "It's very frustrating," she says. "I do a lot of praying. You go through a lot of headaches, and it wears you down."
Bailey and his crew are part of the nationwide struggle to do something about the long-term unemployed—technically defined as out of work more than 27 weeks—as well as those discouraged Americans who have stopped looking for work. Together these two groups constitute some 6.6 million people. Because many have stopped seeking employment, the latest jobless figure of 8.3 percent paints a rosier picture than exists. The recent drop in unemployment hasn't done much to boost the portion of the population participating in the labor force: 63.7 percent, the lowest level in three decades.
Many workers have given up hope. More than half the long-term unemployed are pessimistic about finding a job in the near future, according to the John J. Heldrich Center for Workforce Development at Rutgers University, which has been tracking 1,202 jobless since August 2009. That number jumps to 85 percent for those who've exhausted their unemployment insurance. People who have been unemployed for more than two years say they've cut back on food, health care, and housing expenses, according to the Heldrich Center, and 60 percent reported selling possessions. A similar number said they'd borrowed money from family or friends. A third took on more credit-card debt. Four in 10 used food stamps or went to a food bank.
This is the grim backdrop to Washington's six-month-old effort to lower its own high unemployment rates: 10.4 percent for the city as a whole, as of December, and 24.8 percent in the city's impoverished Ward 8. Bailey and his One-Stop team have been making an offer to local employers: They are asking the companies to give them a shot at finding job applicants. They promise to pre-screen recruits, train them if necessary, and in the end supply a list of names. If the prospects fit the bill, the company hires them. More than 400 employers have signed up, Bailey says, adding that since September the city has placed 2,029 people in jobs, most of which are full-time, out of 4,100 who have registered with One-Stop. "We weren't quite sure how helpful this program would be," says Greg Ten Eyck, director of public affairs for the East Coast division of supermarket operator Safeway. "But we are pleased with how quickly they found people who were qualified."
The job seekers are certainly there in front of New Bethel Baptist. As they enter the Winnebago, they are greeted by Monica West, a serious-looking social service worker with the city's Employment Services Dept. West walks up and down the aisle asking people if they know how to use computers and if they have valid e-mail addresses, then helps them fill out online forms. Most people (12 in total that winter day) will leave with a stack of papers and an appointment the following Friday for a screening with city officials, who will grill them about their background, work readiness, and qualifications. (They also can take computer classes, get help with their résumés, or train for work as home health aides or IT services workers—all for free.)
All day long, passersby—unemployed dog walkers, veterans, and mothers pushing baby carriages—stop in. Donnell Gudger, 62, got into the Winnebago and left with lots of paperwork and an appointment at a local career center for a screening. When his mother got sick in 2009, Gudger, a Vietnam veteran, says he left the administrative position he had held for two decades at the Energy Dept. He's still caring for his mother, but he needs to find full-time work, which he has looked for without luck. Instead he has done temp jobs such as cleaning up at conferences to make ends meet. "I've been holding on the best I can," he says. Gudger says he had heard about One-Stop already. "Now they are at my doorstep, so I said to myself, well, somebody wants me to apply."
— With assistance by Karen Weise
Before it's here, it's on the Bloomberg Terminal.
LEARN MORE