Nestlé's Bespoke Chocolate
Nestlé rolls out customized candies for well-heeled chocoholics
By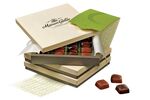 Nestlé has long been known for making chocolate treats for the common man. Think Kit Kat or Crunch bars. But demand for pricier premium chocolates is growing faster than that of plain old candy. So the Vevey (Switzerland)-based company has devised a novel strategy to move up the value chain: customized confections. Internet shoppers in Switzerland and Liechtenstein can now order a taster pack from Nestlé's Maison Cailler line of expensive Swiss chocolates. After nibbling the samples of five kinds of Ecuador-sourced chocolate with various cocoa content, consumers complete an online survey to determine their "chocolate personality." They then can order larger boxes of the candies, marrying their favored chocolate with preferred fillings ranging from peppercorn and vanilla to raspberry and verbena.
The bespoke chocolate experience doesn't come at Baby Ruth prices. A 16-piece box of the Maison Cailler chocolates costs 26 Swiss francs ($28.30). That's just 128 grams of chocolate, or slightly more than 4 ounces, so these custom sweets price out to more than $100 a pound. Yet such luxe pricing can succeed even amid the economic downturn, says Laurent Freixe, head of Nestlé's European business. "It may sound counterintuitive, but what's happening in the [financial] crisis is a quest by consumers for value, for more-affordable product, but also for products that overtake their expectations."
In high-end chocolate, Nestlé hopes to mimic a strategy it used to build demand for its Nespresso capsule, which helped create the luxury home-coffee market. That single-serving espresso-maker business began in only two countries in 1986, with Nestlé introducing online sales in the 1990s and stores in 2002. Now it's a 3 billion Swiss franc ($3.3 billion) brand, with about half its sales coming from the Internet and more than 250 boutiques worldwide. Nestlé already has tried its hand at other premium, customized goods. The company in 2011 began selling BabyNes formula milk capsules, which fit its own $272 single-serving machine. A year earlier it debuted pricey Special.T pods containing top-quality tea in France.
While Kit Kat bars are the world's ninth-biggest chocolate brand, according to Euromonitor International, the company has had mixed success in the premium sweets segment in the past. Nestlé, which merged with Cailler in 1929, sought to revamp the brand in 2006 with higher prices and packaging designed by architect Jean Nouvel. The overhaul was scrapped after it failed to boost revenue. Cailler still isn't well-known outside of Switzerland, with only 8 percent of sales coming from abroad. "Nestlé is a strong player in the mass-market, but in the premium segment, it doesn't have a strong reputation," says Patrick Hasenboehler, an analyst at Bank Sarasin in Zurich.
Chocolate producers including Swiss rival Lindt & Sprüngli Group already sell online, but only for standard products. Bespoke chocolate is generally sold by niche chocolatiers. Maison Cailler's online store will generate the bulk of its revenue, although some sales will come from a boutique in Broc, Switzerland, home to the 193-year-old Cailler brand. Nestlé plans to expand the custom candies to neighboring countries beginning next year. "The big objective is to make it sustainable, make it something which will enter into consumption habits and which will not be just a one-off," Freixe says.
Before it's here, it's on the Bloomberg Terminal.
LEARN MORE