Merger Lawsuits Yield Cash for Lawyers, Zero for You
Firms earn big fees even when there is no payout for plaintiffs
by , , and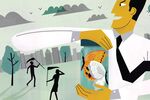 In 2009, Baker Hughes announced it would buy BJ Services, a company that injects gas or liquids into oil wells to increase output. The next day, lawyers for shareholders of BJ Services sued the company, claiming the sale would undervalue their holdings. Ten months later, lawyers on the case met in a Delaware courtroom to seek a judge's approval for a settlement. The plaintiffs' lawyers won $500,000 in fees. Their clients didn't get a cent.
That's a common occurrence in the Wilmington-based court—the chief U.S. venue for lawsuits challenging mergers or acquisitions because more than half of U.S. companies incorporate in Delaware. In the last two years, 57 investor class actions filed against merging companies settled with court approval. Of those, 40 cases, or 70 percent, included money for plaintiffs' lawyers and none for clients, according to court data compiled by Bloomberg. The lawyers' take in those cases: $32.4 million. In the 17 settlements that brought investors money during that time, recoveries totaled $350 million. Legal fees in those cases: $85.6 million.
Faruqi & Faruqi, a New York firm specializing in shareholder suits, had a particularly striking record. Of the 10 cases completed in Delaware in which it played a leading role, including the BJ Services suit, none produced cash settlements for clients, even as the cases generated $6 million in fees, court records show. Information on how that money was divided among law firms was not available.
At a time when law firms are still reeling from the recession and other kinds of securities class actions are on the wane, suing companies after deal announcements is still a good business. M&A class actions are the fastest-growing type of securities litigation, according to legal consulting firm Cornerstone Research. Among transactions of $100 million or more announced in the past two years, 91 percent were challenged in at least one court, it said in a January report. In the cases Bloomberg reviewed, lawyers fared better when they moved quickly. The 29 suits filed within eight days of a deal's announcement led to a median $700,000 in legal fees. The figure was $568,750 for the 28 filed later than eight days. When it came to getting cash for shareholders, the reverse was true: Investors got money in 24 percent of the more quickly filed cases and 36 percent of the later ones. "The quicker the suit, the less thoughtful the suit," says Charles M. Elson, director of the John L. Weinberg Center for Corporate Governance at the University of Delaware. "You're striking on the mere announcement of the merger," with little information about its fairness.
Two hours and 27 minutes after a Dec. 27 announcement that Ventas, a Chicago-based owner of senior housing and medical properties, would acquire Cogdell Spencer, the law firm Rigrodsky & Long posted a notice that it was investigating whether directors had shopped for the best price. The notice invited shareholders in Cogdell, a medical building owner in Charlotte, N.C., to call Rigrodsky & Long for information. Within a week, 11 more law firms posted similar notices. Lawsuits followed. "Every single deal, as soon as it gets announced, websites go up and notices go up on the Internet that this and that plaintiffs' firm is investigating," says Jim Woolery, JPMorgan Chase's co-head of North American mergers and acquisitions and a former partner at Cravath, Swaine & Moore. "What they are doing is trolling for plaintiffs." He adds, "The overwhelming—overwhelming—majority of these cases do not result in any substantive benefit for shareholders."
In fact, the cases cost shareholders, says Jennifer Johnson, a law professor at Lewis & Clark Law School in Portland, Ore. "If you can get $500,000 for increased disclosures and not one nickel for shareholders, who's paying that?" she says. "It's coming out of shareholders' pockets," because the companies pay the lawyers' bills. Regardless of the merits, companies settle almost all cases without trials, the data show. "There's great impetus for them to settle quickly," says Johnson. "Like all class actions, they're very, very expensive to litigate." Besides, "if they want their deal to go through, they don't have time to win."
Stockholders who sue over a deal typically say that they've been shortchanged, that management didn't work hard enough for higher bids, or that the board rigged the deal to keep other possible buyers out—or all these and more. A common claim is that a deal undervalues a company on the verge of explosive growth. They usually seek to halt the transaction, win money damages, or both, a review of their complaints shows.
What stockholders usually get is more information about the deal and, often, a loosening of restrictions in the deal agreement making it easier for another bidder to come with a higher offer. In the BJ Services case, Shane Rowley of Faruqi & Faruqi argued that the legal team deserved $700,000 because the settlement gave investors "crucial" data, such as performance projections for five more years. The judge, John W. Noble of Delaware Court of Chancery, agreed that the new information was valuable, though he added that it was hardly difficult to find. "I can't think of fruit that's closer to the ground," he said, reducing the requested payment by $200,000. Rowley and Managing Partner Nadeem Faruqi didn't reply to telephone and e-mail messages seeking comment.
The system's defenders say that even without consistent monetary awards, the litigation allows investors to scrutinize deals, if only to reveal that their suspicions were unfounded. The deterrent and "policing" effects of such litigation, while hard to measure, "might well justify the money we throw at plaintiffs' lawyers," says Bernard Black, a finance and law professor at Northwestern University.
"Corporate America doesn't have a great track record for policing itself," says Christine S. Azar, the Wilmington managing partner for Labaton Sucharow, a 65-lawyer New York firm that represents institutional investors that are plaintiffs in such suits. "If we weren't there for our clients," she says, "who knows what would happen?" As lead or co-lead counsel during the past two years, Labaton helped settle four cases, two of which produced compensation for investors totaling $26 million.
Such arguments aside, there is serious money to be made from merger lawsuits. A case involving the 2010 sale of Del Monte Foods resulted in the most money for shareholders in the two-year period studied. Lawyers unearthed what the judge, Vice Chancellor J. Travis Laster, found to be a serious conflict of interest by a bank advising Del Monte that limited competitive bidding. The settlement gave shareholders $89.4 million, including $22.3 million in attorney fees.
That was one of four settlements negotiated in part by Grant & Eisenhofer as lead or co-counsel that resulted in financial recoveries for clients in the two-year period. Among plaintiffs' firms with leading roles in five or more M&A settlements, that firm and Prickett, Jones & Elliott, both Wilmington-based, were most likely to get financial recoveries for investors. Prickett Jones did so in 58 percent of cases it helped settle as lead or co-lead counsel; Grant in 50 percent.
Delaware's dominance in M&A cases has eroded as attorneys increasingly sue elsewhere, a 2011 study reported. "Delaware could risk losing its status as the de facto national corporate law court," according to the study by Northwestern's Black and law professors at the University of Cambridge and the University of Oxford. One possible factor is that Chancery judges have gotten tougher on lawyers who produce meager results for their clients, lawyers and academics say. The desire to keep the state in the forefront of business litigation presents judges with a dilemma, says John Coffee Jr., a Columbia University professor of securities law. "If they got really punitive" by cutting fees, he says, "litigation would begin to flee Delaware."
Before it's here, it's on the Bloomberg Terminal.
LEARN MORE