Ireland Goes Looking for Outside Help
The Irish PM is trolling for investment to rekindle growth
by and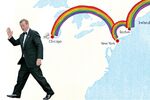 On Feb. 9, Bill Clinton stood at a podium and practiced the art he has refined since leaving office: introducing people who have money to people who need it. This time the people in need are the Irish. They want investment, not a bailout.
The lunch audience, about 80 people in a New York University auditorium, sat at tables around wicker baskets of Bolands Elite Chocolate Kimberly mallow cake, an Irish treat. Clinton wore an emerald necktie; on the stage next to him sat Enda Kenny, Ireland's Prime Minister. "Now is the time to invest in Ireland," said Clinton, "where property is … a steal. You've got the best educated workforce in the world, and a lot of people are dressed up with nowhere to go."
Ireland took an €85 billion ($116 billion) bailout in September 2010 through the Troika—the European Central Bank, the International Monetary Fund, and the European Commission. Since then the country has dutifully carried out what the Troika asked in return. An August 2011 report from the IMF, the most recent available, praises "a track record of resolute policy implementation" that includes fiscal tightening, stronger financial-services regulations, and the recapitalization of the country's banks. There are no German flags burning in the streets of Dublin, and Irish officials, both on and off the record, take pains to suggest—without saying so directly—that they are behaving less capriciously than some other European countries. In a less cautious moment in June of last year, Finance Minister Michael Noonan suggested the country sell T-shirts that spell it out: "Ireland is not Greece."
That much is already apparent to bondholders. Ireland's October 2020 bonds yielded 7.03 percent the day before Clinton and Kenny took the stage, down from 9.1 percent in early December. An equivalent Portuguese note yields 13.5 percent; for Greece, 33 percent. The government aims to sell Treasury bills by June, and both Kenny and his Finance Minister have publicly ruled out any further bailouts. Instead the government, having pleased its debtors, is moving on to the next impossible problem: economic growth.
The country's economy barely grew in 2011. Inspired by German-style economics, the Troika takes a dim view of any kind of stimulus—tax cuts or public-works spending—choosing instead to allow wages to fall over time, increasing competitiveness. Evidence suggests this is happening: Ireland's unit cost of labor has dropped 12 percent in the past two years. But this kind of readjustment is a slow process, leaving Ireland a painful experiment in austerity. Unemployment has stayed above 14 percent for almost 12 months. And in the fiscal year ending in April 2011, Ireland saw the most outward emigration since the 19th century. "You can't grow our economy or any other economy by an austerity program on its own," said Kenny onstage in New York.
Richard Bruton, Ireland's Minister for Jobs, Enterprise, and Innovation, joined Kenny on the road tour to New York, where Bruton described a microeconomic, patchwork approach to growth. Under the plan, officially announced on Feb. 13, Ireland will offer loan guarantees for small and medium-size businesses struggling to get credit. Micro-finance loans backed by €100 million will become available. Officials will see whether regulations can be adjusted to lower legal costs, and any Irish who help bring in jobs from overseas will get finder's fees. Despite austerity, the plan even calls for a boost in funding for technical education. The plan's initiatives number 250 items, says Bruton, one for every working day of the next year.
Ireland still needs outside investment. Before the public event in New York, Kenny, Bruton, and Eamon Gilmore, Ireland's Deputy Prime Minister, made a case behind closed doors for foreign direct investment to a group of investors pulled together by the William J. Clinton Foundation. Bruton described it as a "dream lineup" of chief executive officers from firms in life sciences, technology, financial services, venture capital, and private equity. (The Prime Minister's office declined to release the guest list.)
Kenny's government is looking back at two distinct Irish booms. The first was driven by years of investment in education, a low corporate tax rate, and an affordable workforce trained to thrive in tech and pharma companies. Kenny wants to return to that era while avoiding the pitfalls of the second boom, a housing bubble inflated by low interest rates and reckless banks.
While in New York, Kenny also spoke to the Irish Business Organization, a group of Irish Americans and Irish expats, in a banquet room overlooking Park Avenue that included a McCarthy, a Dunleavy, a Higgins, and at least two Murphys. He opened in Gaelic and spoke of sovereignty; as a result of the crash, Ireland had lost control over its finances for the first time in its history, he said, but it would regain it. He said 2013 will be the year of "the Gathering," an attempt to pull together expats and their descendants and encourage them to visit with their money. In the last month, Bruton has met with representatives of the Israeli government to learn how they've coordinated investment with their own diaspora.
Ireland, which spent the past two centuries scattering its children around the world, is assessing the value of their affection. While the Irish Prime Minister traditionally spends St. Patrick's Day in Washington, Kenny is adding a tour of New York, Chicago, and South Bend, Ind., home of the Notre Dame Fighting Irish, this year. Barry O'Leary, also in New York with Kenny, heads Ireland's Industrial Development Agency. More than 70 percent of Ireland's foreign direct investment comes from the U.S., he says. When approaching an American company, he says, "if there's somebody at C level in the company who has an Irish name, it sure is a good starting point."
Before it's here, it's on the Bloomberg Terminal.
LEARN MORE