Insurer Fidelity National Enters the Restaurant Business
Fidelity National buys O'Charley's as it expands into restaurants
By and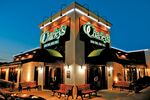 Facing limited growth opportunities in his main business—title insurance—Fidelity National Financial Chairman William Foley II has a plan to boost his company's revenue: sell "chicken bacon bleu" sandwiches and tenderloin beef carpaccio. On Feb. 6 the insurer agreed to buy O'Charley's, a casual-dining chain with more than 340 locations, for about $200 million by purchasing the shares of the company it didn't already own.
The notion of an insurer shifting into the restaurant business is not as incongruous as it seems. First, some background. Foley, a lawyer by training, bought a small title insurer in the 1980s and began buying up others, building Fidelity National into the largest U.S. company in the field, with $3.26 billion in title premium revenue last year. (Title insurers verify that a seller is a property's true owner and that the property is free from liens. The companies collect a one-time premium and pay costs that arise if someone disputes the new owner's right to the property.)
Fidelity National got into the food business in 2009, when it formed American Blue Ribbon Holdings to invest in two troubled restaurant chains, Village Inn and Bakers Square. The next year, American Blue Ribbon bought the Max & Erma's chain out of bankruptcy. Fidelity National has said that adding O'Charley's, which operates under its namesake brand, as well as Stoney River Legendary Steaks and Ninety Nine, will allow it to cut costs.
"The restaurant business can scale pretty quickly, and there are clearly cost benefits to being bigger, particularly on the purchasing side," says Fidelity National Chief Executive Officer George Scanlon. "Bill Foley and Fidelity have made a lot of money through the years" investing in restaurants, says Robert Derrington, an analyst at Morgan Keegan, who follows O'Charley's. "Bill and his team are pretty wise investors." He suggests their plan may be to wring costs from O'Charley's then sell it at a profit.
Not everyone applauds the purchase. Casual-dining establishments, such as Applebee's and Chili's, have faced pressure as customers cut back amid the recession and chains struggled to differentiate their offerings. While Stoney River Legendary Steaks and Ninety Nine are thriving, the O'Charley's chain has suffered declining same-store sales in recent quarters. As a result, the company hasn't posted an annual profit since 2007. "O'Charley's has been a leaky bucket for years," says Bob Goldin, an executive vice president at restaurant researcher Technomic in Chicago. "I don't know if there's a miracle worker who could turn this thing around."
Fidelity National is weighing other restaurant deals after agreeing to sell home and flood insurance businesses last year. Scanlon says that the insurer often looks for opportunities "to venture outside the title world" because it already has a dominant market share and faces limits on expansion for antitrust reasons. In addition to American Blue Ribbon, Fidelity National has minority stakes in Remy International, a maker of alternators and starters for cars, and Ceridian, a payroll-processing and employee-benefit administrator.
Insurance companies routinely invest outside their core businesses, says Mark Dwelle, an analyst who follows Fidelity National at RBC Capital Markets in Richmond, Va. Faced with a main product tied to a hobbled real estate market, Fidelity National is doing what any portfolio manager would do: seeking attractive returns. "I don't want to overdraw the comparison, but that's what Berkshire Hathaway does," says Dwelle.
Berkshire Hathaway grew from a failing textile maker into a conglomerate selling an unlikely combination of insurance, energy, chocolates, furniture, and Dairy Queen Blizzards. Warren Buffett has said that the "dumbest thing" he could have done after taking control of Berkshire in 1965 would have been to expand textile operations. "For years that's exactly what I did," Buffett wrote in a letter to investors last year. "And then, in a final burst of brilliance, I went out and bought another textile company. Aaaaaaargh! Eventually I came to my senses."
Before it's here, it's on the Bloomberg Terminal.
LEARN MORE