Getting Principals to Think Like Managers
A program offers management training to administrators
Alison Damast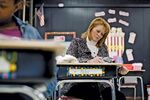 Kim Lowry, principal of South Elementary, a 500-student school in rural Kennett, Mo., was wary when her superintendent enrolled her in a part-time, two-year business school program. Her school had failed to meet benchmarks under the federal No Child Left Behind law and faced a state takeover. Business classes were the last thing she wanted to do with the money earmarked for improving her school. Says Lowry: "I was very resistant."
That changed in the summer of 2009, when she attended her first classes at the University of Virginia's Darden School of Business. Under the guidance of professors there, she wrote a plan for transforming her school. That fall she formed teams of teachers that scrutinized student performance, hired consultants to help improve scores on standardized tests, and posted the results of every student in the staff lounge, making teachers publicly accountable for their classes. "I took the best business practices and translated those into education," says Lowry, who completed the program in January. Her school now meets federal standards, and its test scores jumped by 26 percent in English and 29 percent in math while she was in the program.
The White House wants to help fix 5,000 underperforming schools, and the Education Dept. has distributed more than $4 billion in federal School Improvement Grants in the last few years. That has given school districts both the motivation and the funds to change, and many are turning to Darden for help. Over the last eight years, Darden has worked with nearly 200 schools in 12 states.
This year, 48 schools from Arizona, Utah, Nevada, Colorado, and New Mexico are among those enrolled in the program, and state education officials are participating alongside the principals. Those states want to "take [the UVA program] and create it in the Southwest" at a university in the region, says Paul Koehler, director of the Southwest Comprehensive Center, a nonprofit that advises states on how to fix troubled schools.
Some education professionals question whether the results are worth the $75,000-per-school price tag for the two-year program, in which principals attend classes at Darden for a total of 20 days, UVA staffers visit the districts, and participants are in frequent contact with professors. Grover Whitehurst, an education policy analyst at the Brookings Institution, says Darden's offering needs to be more "rigorously evaluated" if other states are to clone the idea. "It is important, before we start trying to replicate this, that we are pretty confident the results would hold up," he says. Frederick Hess, an education scholar at the American Enterprise Institute, says the program may make administrators better managers, but it's unclear whether they learn how to deal with the toughest challenges, such as negotiations with teachers' unions.
The program, a collaboration between Darden and UVA's Curry School of Education, helps principals and administrators approach troubled schools with the eye of a manager, says Executive Director LeAnn Buntrock. Participants examine case studies on companies such as General Electric and Walt Disney, study organizational behavior, and learn how to analyze data. "We're not trying to make businesses out of school systems, but certainly a lot of leadership and business principles apply," Buntrock says.
After the Cincinnati Public Schools began participating in the program in 2008, the district asked successful administrators and teachers to coach counterparts in struggling schools, and established a program that paired local business leaders with principals. Cincinnati saw 14 of its 16 underperforming schools meet No Child Left Behind standards after the program.
At the first 57 schools that completed the program, reading proficiency increased an average of 33 percent and math scores rose an average of 37 percent, Darden says. But schools in St. Louis and Kansas City, Mo., and on Indian reservations have seen mediocre or negative results, and a handful have withdrawn from the program after the first year.
This spring, Darden will add a "district boot camp" for superintendents and curriculum directors. They'll attend the additional training session before principals take classes, with the idea that as soon as their schools start the program they'll be able provide them with adequate support to make necessary changes. Says Buntrock: "This will give them more of a runway so they can hit the ground running."
BOTTOM LINE -
The bottom line: A $75,000 B-school program for principals has improved test scores, but some experts say it may do little to fix the toughest problems.
Before it's here, it's on the Bloomberg Terminal.
LEARN MORE