Charlie Trotter on Closing His Chicago Restaurant
The Michelin-starred chef on electing to shutter his eponymous Chicago restaurant after 25 years—and cook up some theology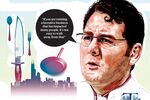 I never know what I'm going to do: That's been my story my whole life. I make it up as I go. After I graduated college in 1982, I thought I'd really like to work at a restaurant. I got a job in the Chicago area. I thought I was the luckiest guy in the world. About three years into it, I took a six-month trip to Europe and made it to Frédy Girardet [in Switzerland], which was maybe the best restaurant in all of Europe. It was a crystallizing experience for me. That's when I realized this is the kind of restaurant I would like to open, something where everything was attended to with extreme and meticulous detail. So I returned home and set about opening Charlie Trotter's.
Since I was bold enough to put my name on the front door, people more or less expect me to be here. I've always been envious of artists like Miles Davis or Bob Dylan. Miles Davis would say, "I want there to be some Japanese influence in my music," and he could move to Tokyo for a year. Bob Dylan could move to Europe for six months. With what I do, I'm a little locked in.
[Returning to school] is something I thought of about five years ago. We'd plowed through 20 years and had glorious days of celebrating, and after all the parties we were well into our 21st year. I wanted symmetry, so I said, "Let's take this to 25 years." And if you are running a highly lucrative business and you are doing something that has impacted many people, it's not easy to walk away from that. There are so many things to consider. But I finally had to do this for myself. I didn't know how the staff would respond. I thought we might have seen a small exodus, but only one person hasn't been able to really cope with it. I talked it over with my wife and a year ago started working on applications. I'm going to go to grad school in Chicago.
My plan is to work on a master's in philosophy. I don't know how to put this gently, but I'm trying to tackle the biggest question of all, which is the God question. How do he or she exist? And how does it matter? What is it all about? The theme that I have in mind is to compare Nietzsche and Dostoevsky. [During this year's New Year's Eve dinner service], at 12:01 I made an announcement: You have 160 more dining opportunities at Charlie Trotter's, so get it while you can. — As told to Karen Weise   
Before it's here, it's on the Bloomberg Terminal.
LEARN MORE