Can Social Media Lift Travel?
Travel websites try to harness social media to drive bookings
By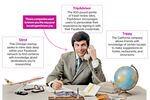 For many people, booking a vacation is strictly an online affair: browse, click, buy. Now established players such as Expedia, along with a bunch of startups, are hoping to enlist friends and family via social networks to cheaply replicate individually tailored services travel agents once provided. The conceit is that travelers are more comfortable choosing a Caribbean resort or rain forest excursion if someone they know has tried it first. "Travel agencies used to be such a personalized experience," says Joe Megibow, vice president of the U.S. unit of Expedia, the largest travel website. The process of planning a trip "has become so commoditized and price-driven that we have sort of lost the soul of travel."
Nearly 118 million people in the U.S. will research travel online in 2012, up from 114.5 million last year, with more than 98 million making bookings, forecasts researcher EMarketer. Online travel sales in the U.S. are expected to grow 11 percent this year, to $119.2 billion, from $107.4 billion, the firm says.
A slew of startups with names such as Trippy, Gtrot, Gogobot, and FlyMuch promise to take the guesswork out of vacation planning by mining information from Facebook, Foursquare, Twitter, and other social networks. The newcomers operate on the assumption that tasks such as unearthing the best coffee bar in San Francisco can't be entrusted to mere guidebooks. First-time visitors to five-month-old Trippy are invited to sign in using their Facebook credentials and then are prompted to select a destination. The site combs data streams of relatives and friends to compile a list of recommended hotels and restaurants. "If I don't ask my friends, then I'm really left to go out there and seek out information that's really anonymous and maybe irrelevant," says founder J.R. Johnson.
While Trippy gets some revenue from hotel referral fees, the site operates largely on venture capital: The Los Angeles company clinched $1.75 million in funding from Sequoia Capital and True Ventures in November. To make money, such small fry hope to forge partnerships with bigger travel players that can funnel them traffic. In exchange, social sites could link Web users back to travel sellers. Expedia hopes to unveil its own social networking service next year.
Travel agents contest the notion that complex algorithms can recreate the sort of customized service an agent provides. Ryan McGredy, owner and president of Moraga Travel near San Francisco, likens travel planning via social networks to combing through WebMD when you're sick, hoping to find a diagnosis. An agent, he says, "gets to know you, and they take it to the next level and suggest things based on knowing you."
That hasn't stopped established players such as TripAdvisor, which operates in 30 countries, from trying to exploit social media. The company says 57 million users have signed on with a Facebook login, which enables them to access the recommendations of people in their network. Their friends' views are then displayed on TripAdvisor's site.
There's some evidence social networks spur travel sales. A 2011 study by Expedia found that people who visited a company's Facebook page were more likely to purchase from that seller than those who visited only the company's site. Facebook linked 15.2 million visitors to hotel websites in 2010, a 35 percent jump from the prior year, according to a 2011 study by travel researcher PhoCusWright. Of that number, about 568,000 resulted in a booking—a conversion rate, in industry parlance, of almost 4 percent. That's higher than the conversion rate from travel review sites, says Douglas Quinby, a PhoCusWright senior director. "When we saw the results from the data, we kind of did a double take," he says.
Before it's here, it's on the Bloomberg Terminal.
LEARN MORE